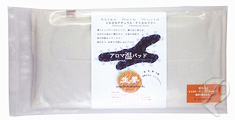 Aroma Hot Pad (Ginger) 345g x 1p
Item Number:
MB2493
Price:
3,024 YEN
≒ 26.70 USD
Just warm up in a microwave, Nice and warm by brown rice and ginger, Reusable
-Hot pad, Packed in a cotton bag, Non-rinsing organic brown rice and ginger.
-Just warm up in a microwave for a minute, Easy to use, Keeps warm for about 20 minutes.
-Stick on necessary spots such as shoulder, neck, waist and belly, Nice and warm, Comforting and relaxing.
-Can be used as a hot pad after about 30 times reuse, Can be used as a bath additive once or twice in the end.
-No chemical used, Environmental friendly ingredient only, Ingredients return into soil.
-Can be warmed up on a hot pad or on an oil heater.
Ingredients: Organic brown rice (Thailand origin), Ginger under contract cultivation (Thailand origin).
Surface material: Cotton (Unbleached).
---
Macrobiotic..
This is a regimen that incorporates such concepts as Zen, Feng-Shui, Yin Yang and Tao. These concepts unify the essence of Japans spirituality and outlook on the Universe.. The purpose of the Macrobiotic Asia website is to bring together products from Nature''s bounty as well as processed products and deliver them to the world in the Japanese spirit of harmony.