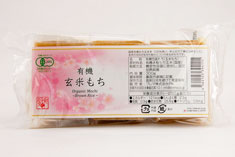 Organic Mochi (Brown Rice)
Item Number:
00100100
Price:
516 YEN
≒ 3.72 USD
The flavor of sticky rice by wooden pestle.
Enjoy natural sweetness of brown sticky rice made by wooden pestle. It gives smooth and chewy texture. It is produced in a traditional way of making rice cake; soaked domestically organic brown sticky rice well in water and steamed it. Pounded well with wooden pestle and after that spread it by hand and vacuum-packed carefully. Preservative and additive free. Enjoy specific taste of organic brown rice. This is easy to eat with much nutrition left. This can be preservative food being able to get energy easily, good for your busy breakfast, lunch, and afternoon snack. Bake and eat together with grated Japanese radish or with red beans. Put in Japanese soup or miso soup, or Udon noodle. Also use instead of pizza crust or bake waffle with machine and eat with jam.
Recommended way to eat
After baking the rice cake, dip in soy sauce or ground soy beans powder. Eat with miso soup or Udon noodle are also good. You can make waffle when you cut it in thin slices and bake them with waffle machine. Good to eat like canapé with nuts butter and cheese onto the baked rice cake.
*Take out from inner bag when you cook it.
*After opening inner bag, keep in plastic zipper bag in refrigerator. Consume within a few days.
-Ingredients: organic glutinous brown rice (domestic)
-Disinfecting method: Sealing in airtight container and sterilize with pressurization and heat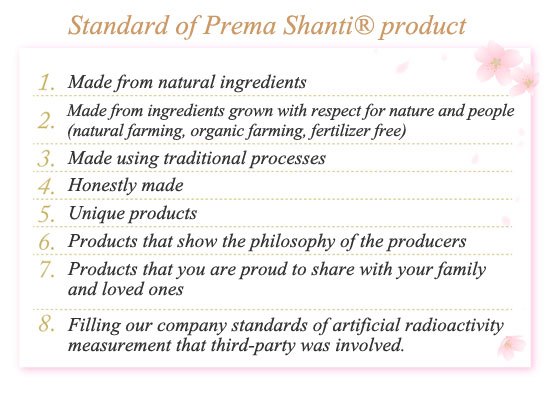 Other Prema Shanti Series products >>
---
Macrobiotic..
This is a regimen that incorporates such concepts as Zen, Feng-Shui, Yin Yang and Tao. These concepts unify the essence of Japans spirituality and outlook on the Universe.. The purpose of the Macrobiotic Asia website is to bring together products from Nature''s bounty as well as processed products and deliver them to the world in the Japanese spirit of harmony.


Japanese Kudzu Powder 100g
968 YEN

Bio-Normalizer
6,804 YEN

Lift Up Source
3,980 YEN