Hirara Natural Skincare series
Hirara is for all the hardworking women in this stressful society.
Be beautiful as you are.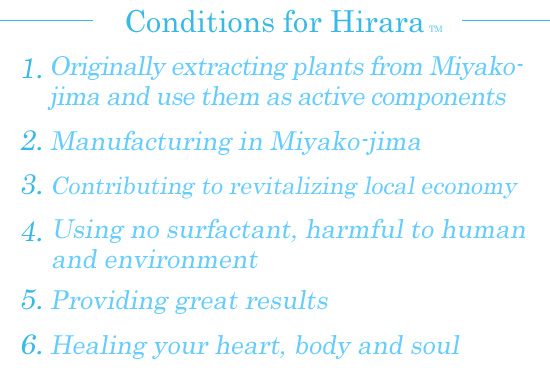 ---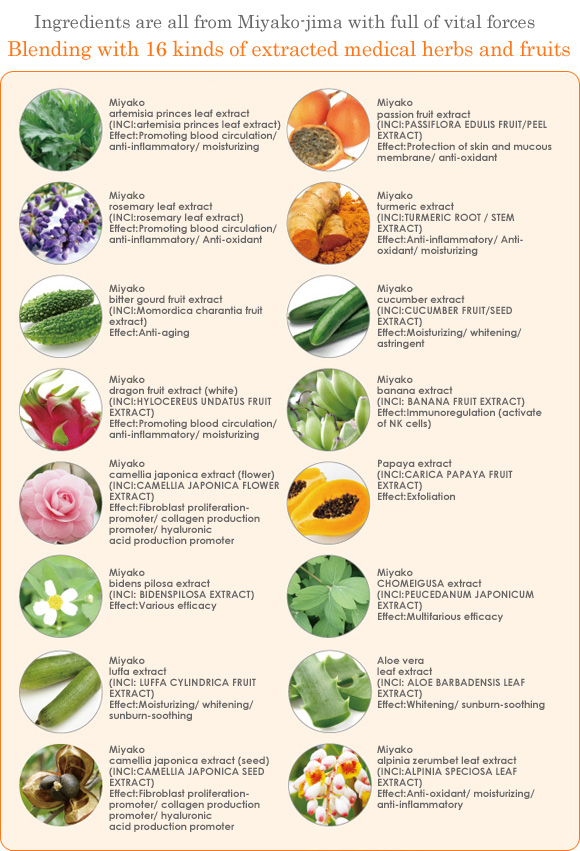 About Bidens pilosa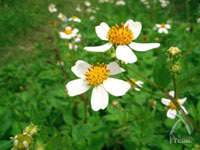 One of the ingredients, "bidens pilosa" is a species of flowering plant in the aster family, Asteraceae. They are widely distributed in the tropical and subtropical areas. Its flowers are small and pretty in yellow and white but their vital forces are very aggressive. Therefore, they have long been in use as material for health in various regions.
"Miyako bidens pilosa" is absolutely pesticide, chemical fertilizer and compost free. This ingredient contains bioactive components and they have anti-oxidative effects.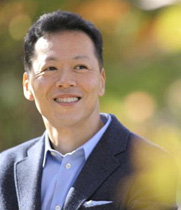 How I met Miyako-jima
NAKAGAWA NOBUO
Since the Great East Japan Earthquake and the Fukushima Daiichi nuclear accidents on 11 March 2011, I have visited Fukushima and Okinawa many times. Since then I realized that there was something I had to do rather than arguing the rights or wrongs of nuclear power. That is, creating "Third sector of industry". Due to the lack of industrialization, they have base camps or nuclear plants for growth in region's economy. However, it is only the urban area that receives electricity or benefits from them. Unless we break this vicious cycle, nothing will change. It reminds me of the days I first started my business. I was trying to insist on my belief that we should not rely on chemicals, nor should we make easy gains from them. Then I realized what I had to do was suggesting alternative ways we could have instead of chemicals and spreading those ideas around the world. I just dedicated my time to the business with only eight hundred thousands yen in which I got by selling my secondhand car that I had just bought at that time.It didn't matter my ideal was far away from the reality. Thirteen years later, about sixty people are engaged this business now. It is still a small firm. However, if I pursue my goal for another 13 years, at least one percent of my extraordinary dream, creating new industry instead of having nuclear plants or base camps might come true.
This is my new dream. I found it in Miyako-jima. A wide variety of medical herbs grow wild or have been cultivated in the small island, Miyako-jima. This is the only island in the world that was formed when a coral reef rose. Therefore, the ground is made of coral. This well-drained and very alkalic soil is not suitable for cropping. Large amounts of agrochemical and chemical fertilizer are necessary to cultivate sugar cane and tabacco leaves in such a poor soil. Furthermore, typhoons often hit this flatland and high winds blow plants down, push the sea water towards the whole island. However, these plants revive with mineral of coals and obtain nutrients and vital force. This strength of the plants is remarkable. Very strong ultraviolet rays keep giving stress to them, but they produce a high anti-oxidizing substance to protect them. This barren land seems useless without agrochemicals or subsidies for humans but plants get strong powers to revive their energy from the hard conditions. The island with no industry is a treasure-mountain itself by looking from another angle. I was strongly attracted to this hidden treasure-mountain that it would contribute to revitalizing the economy in this island. To provide safe foods with full vigor, we have just started carrying out an agricultural business while treasuring nature of this island. We are complete beginner in this field and it will take many years to call it industry. What we can do right away is producing new products with regional resources.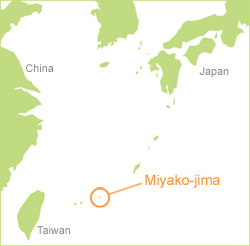 Therefore, we produced new products, spiritual and natural skin care series "Hirara". We cultivate or collect 16 kinds of medical herbs and fruits, then extract and manufacture them. Whole process has been operated in Miyako-jima in which the population is only 50 thousands. It seemed to be a rash attempt at first but we managed to complete the products in two years. We have just taken the first step and may not call them industry yet. However, I hope that I will be able to prove a principle "if you want to do something helpful to people, keep visualize ideas and keep spreading it throughout the world. Never give up and will make it come true". I shall make maximum efforts to achieve the dream, providing an absolutely local industry without relying on nuclear powers, base camps, or subsidies. I hope you will enjoy and cherish Hirara.
Prices can be converted into your currency.
Converted price based on the exchange rate today will be automatically displayed for your guide by selecting the currency from the pull-down menu. (Please note that the amount billed may vary depending on the currency rate.)
---
No. 01000041

4,800 YEN ≒ 34.56 USD

Feel the earth, be yourself Cream with full ...
No. 01000444

3,800 YEN ≒ 27.36 USD

Wholesome natural ingredients from Miyako-jima ...
No. 01000037

3,800 YEN ≒ 27.36 USD

For delicate face Soap based facial wash pro...