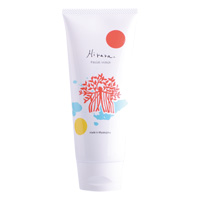 Hirara Facial Wash 150g
Item Number:
01000037
Price:
3,800 YEN
≒ 29.71 USD
For delicate face
Soap based facial wash provides a very smooth and soft feeling. Helps removing impurities while protecting your skin's natural moisture balance. Plenty of natural ingredients such as fruits and herbs from Miyako-jima nourish your skin itself. This high quality facial wash also helps purifying your mind and you will get absolutely refreshed.
-Ingredients: Free of petroleum-based surfactant
WATER, DPG, MYRISTIC ACID, STEARIC ACID, SEKKEN SOJI-K(JTN), POTASSIUM HYDROXIDE, POTASSIUM LAURATE, HYDROLYZED COLLAGEN, PALMITIC ACID, GLYCERIN, CITRUS AURANTIUM DULCIS (ORANGE) FLOWER WATER, BIDENS PILOSA EXTRACT, CARICA PAPAYA (PAPAYA) FRUIT EXTRACT, CUCUMIS SATIVUS (CUCUMBER) FRUIT EXTRACT, MOMORDICA CHARANTIA FRUIT EXTRACT, TREMELLA FUCIFORMIS POLYSACCHARIDE, SIMMONDSIA CHINENSIS (JOJOBA) SEED OIL, LAVANDULA ANGUSTIFOLIA (LAVENDER) OIL, BG, HYDROGENATED POLYISOBUTENE, SODIUM COCOAMPHOACETATE, CETYL ALCOHOL, EDTA-2Na, EDTA-4Na
-How to use:
Wet your face. Lather up the cleanser in your palms with cold or warm water. Rinse thoroughly.
*When skin irritation or any abnormal symptoms occur, stop using the product. When symptoms are severe, we recommend you to consult a dermatologist.
Hirara Natural Skincare series >>
---
Macrobiotic..
This is a regimen that incorporates such concepts as Zen, Feng-Shui, Yin Yang and Tao. These concepts unify the essence of Japans spirituality and outlook on the Universe.. The purpose of the Macrobiotic Asia website is to bring together products from Nature''s bounty as well as processed products and deliver them to the world in the Japanese spirit of harmony.