The Potential of Deeply roasted Food
It is interesting to note that various types of cereals, meat and vegetables possess different medicinal effects after being deeply roasted.
The following examples are well known.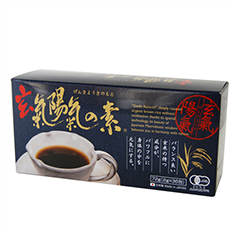 Roasted brown rice drink - Genki Youkino Moto is a product
made from deeply roasted brown rice
Deeply roasted umeboshi (pickled plum) is said to be good for treating diarrhea
Deeply roasted kelp is said to be good for bronchial asthma
Deeply roasted hair is said to be good for stopping bleeding
Deeply roasted eggplant is said to be good as a diuretic
Deeply roasted eel is said to be good for lung tuberculosis
Deeply roasted seeds of Japanese plums are said to be good for treating swelling
Deeply roasted brown rice is said to be good for cancer patients
Which effects the Deeply roasted Food has depends on which material is being deeply roasted. In the past this knowledge of what illnesses they treat was probably acquired through years of experience. The logical explanation for the effects came later, because at first it was only important if they worked or not.
When food is deeply roasted, a large amount of the fats and proteins present in the original materials are lost, whereas much of the carbohydrates remain. Thus, the Deeply roasted Foods are composed of primarily carbohydrates and a small amount of the initially present minerals and vitamins. It is really amazing that such slight differences in composition can result in such great difference in effect. But through years of experience it has been determined which specific substances can effectively treat which illnesses.
Despite my Down's Syndrome, I could finally walk!

The story of Yonsu
In 1995 Mayumi Kaneshima gave birth to a baby boy. But as soon as he entered this world she felt that something was wrong. Not because of any problems during labor, but from the initial reaction of the doctors who delivered him.
Mayumi's baby was born with Down's syndrome.
He was named Yonsu. But even after reaching 2 years of age, he could neither walk nor talk. He hardly ever smiled and gave no reactions when spoken to. "Even when I took him on my arm and went to the supermarket it was like I was bringing along a piece of luggage." Mayumi says explaining her son's condition.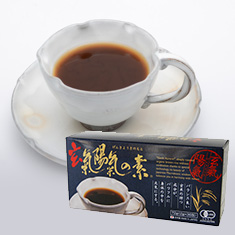 Roasted brown rice drink - Genki Youkino Moto can be mixed with
your favorite drink, like coffee
As advised by the owner of a natural food shop near they lived, Yonsu started to take deeply roasted brown rice powder, mixed in 200cl of milk, soy milk or water with yeast, 3 times a day. The change occurred immediately. Because the muscles throughout Yonsu's body were particularly weak, he suffered from chronic constipation and could only defecate 5 times a month. Every single time he suffered severely, and sometimes with no result. These times his mother was forced to apply oil using cotton swabs to make it easier for him, and in some cases also use an enema.
This severe constipation ended soon after he started taking deeply roasted brown rice powder: he started to defecate once every 4 days, and soon, ever 3 days. He could even do it by himself with a little effort.
When relieved of his constipation, Yonsu's motor functions also awakened. After about three weeks, with some support from neighboring objects he was able to stand up by himself for the first time in his life. A physical therapist from the rehabilitation institution they went to said that it would take a long time for him to be able to walk. However, after about twenty days he took his first steps on his own.
Once he was able to walk by himself, he began to enjoy it a great deal, walking and falling over again and again. He was even able to open and close heavy doors by himself, and his weak body gained strength and his back straightened.
In addition to improved motor function, Yonsu began to display mental progress as well. He started to play with blocks and toy cars, which he was not able to do at all before. When adults played with him, he would roll around laughing making the adults smile just as much as himself.


Yonsu got a new life from Deeply roasted Food.