About Us
For whom we love, what can we hand down?
For children we love, what can adults do?
For the coming new era,
what contribution can we make?
For the mutually supported world,
what can we give and share?
Prema's challenge starts by showing our small but
definite presence. This is not possible without help.
We need to do this together with you, the customer,
by dreaming, learning, growing, sharing and developing.
That is the vision we have in order to continue having
a meaningful existence in future society as well.
Macrobiotic Asia is owned and operated by Prema Inc.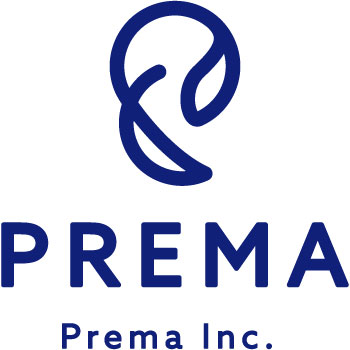 "Prema" in Sanskrit means "divine love".
"Prema" is our registered trade name.
"Prema Shanti" is the combination of the Sanskrit word Prema "divine love",
and Shanti "inner peace", which is also our registered trade name.
Our logo (below) symbolizes the following things: life, birth, a mother's love and the sprout of nature. In our logo we have combined the images of a new being coming to life in a mother's womb, a mother wrapping her arms around a new blessed life, and the natural power of sprouts budding. It also represents the sun and the moon, in which we include our message of unification, harmonization and the balance of yin and yang.
In 1999, we started our online shop "Binchoutan.com" aimed at the Japanese market. Since then, Prema Inc. has become a specialized trading company handling more than 8000 items ranging from natural foods, ecology goods, natural clothing, to natural skin care and anti electromagnetic wave products. We work with the keywords "mind", "body", and "mother earth" each step of the way, in planning, production, distribution, import and export.
Our selection criteria are not based on "popularity" or "profit" but in our belief that the product will be able to support our customers. Therefore, we select only products we can recommend with confidence.
Merchandise Selection Standard
We will continue to promote this concept through our already existing Japanese online shops, the new international online shop, in planning and distributing catalogs and so on. We also intend to keep on developing new Prema original products aimed at making our customers become aware of how it's possible to live a natural and balanced life.
Company Overview
Company Name
Prema Inc.
Address
[Head Office]
10-1 Kumiishi-cho, Uzumasa Ukyo-ku, Kyoto city, 616-8125, JAPAN
TEL:+81 75-600-2845
FAX:+81 75-813-5331
E-mail:foreign@prema.co.jp

[Kyoto Office]
308 Ontomo-cho, Nakagyo-ward, Kyoto-city, KYOTO 604-8331 JAPAN

[Tokyo Office]
Meguro Ginza bldg. 3rd Floor, 2-9-36 Kamimeguro, Meguro-ku, Tokyo, 153-0051, JAPAN

[Distribution Center]
28-7 Tsuruta-cho, Nishi-ku, Sakai city, Osaka, 593-8323, JAPAN

Capital
80 millions Yen
Representative
NOBUO NAKAGAWA
Foundation
Nov. 2, 1999
Establishment of company
Mar. 7, 2001
Main business
Natural eco products wholesale, Natural eco products mail‐order business, Natural eco products retail, Natural eco products planning
Main business development
Retail and Wholesale in Japan domestic (general consumers, medical institutions, department stores, supermarkets that sell exclusive products, High-class apparel shop, Natural foods retailers, builders) Trade with overseas contries (general consumers, European countries, Korea, U.S.A., China, India, Thailand, retailer from all over the world)
Yearly turnover
(approximate amount)

| | |
| --- | --- |
| fiscal year | Millions Yen |
| 2004 | 870 |
| 2005 | 990 |
| 2006 | 1190 |
| 2007 | 1330 |
| 2008 | 1380 |
| 2009 | 1430 |
| 2010 | 1510 |
| 2011 | 1620 |
| 2012 | 1620 |

Employees
38 members
(include regular employees and also Non-regular employees.)
Main business partners
Ohsawa Japan co.,Ltd. MUSO Co.,Ltd. DAIO Co.,Ltd. SYNERGY COMPANY JAPAN, SUGIMOTO KNIT INDUSTRIAL Co.,Ltd. REGINA Co.,Ltd etc.
Over 300 companies in Japan domestic and 20 companies in overseas countries.
---

Our flagship store "Premarche Organics" is located on the Sanjo Shopping street in Kyoto city.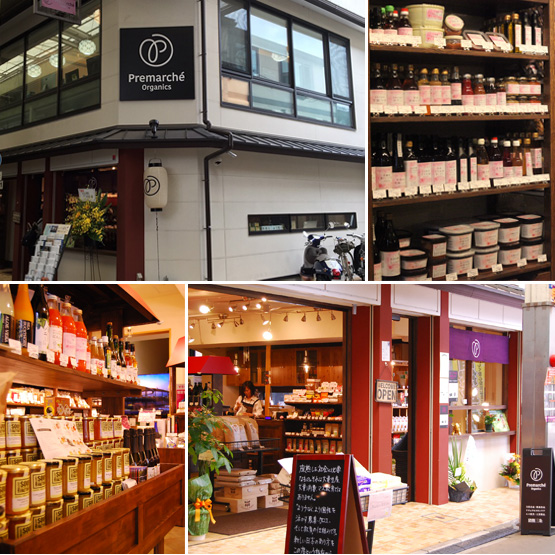 Premarche Organics
-INOKUMA YARD
308 Ontomo-cho, Nakagyo-ward, Kyoto, 604-8331 JAPAN
-KUROMON YARD
294 Ontomo-cho, Nakagyo-ward, Kyoto, 604-8331 JAPAN
Open: Mon-Tue, Thu 10:00-18:00 Fri-Sun 12:00-20:00
Closed: Wed.
Access:
7 min. walk from Nijojo-mae station, Subway Tozai-line
8 min. walk from Omiya station No.3 exit, Hankyu line
13 min. walk from Nijo station, JR line
2 min. from Horikawa-Sanjo bus stop, Kyoto City Bus No.9, 12, 50
Close to the Nijo-castle, Kyoto Imperial Palace From Kyoto station, taking Kyoto City Bus No.9 is fast and easy.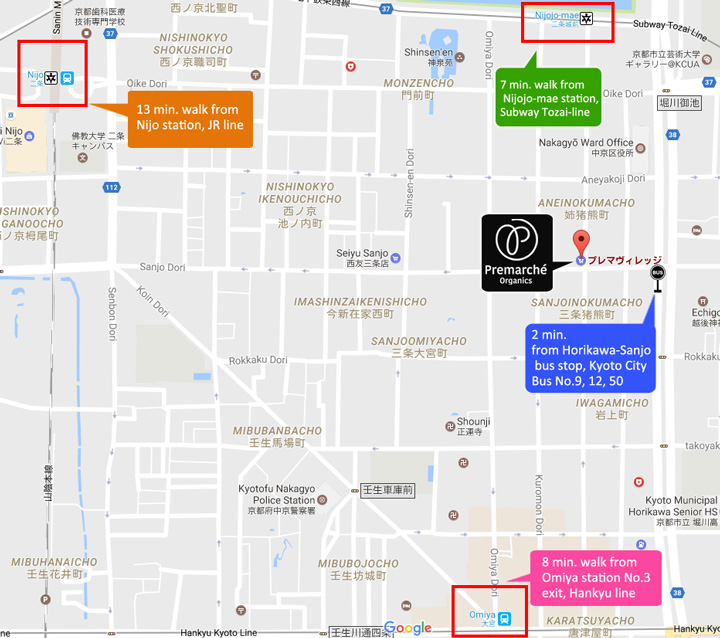 View Large Map
---