Series : About calcium and our health
By Kiyomichi Yamaguchi,
the representative of the Food Science Research Laboratory BAOBAB
1: Introduction
Our eating habit has changed greatly for these past 50 years.
There is a great variety of "the culprit" threatening our "life", such as food additives, agricultural chemical, compound fertilizers and diet, fishing net stain-proofing agent which are indispensable to fish breeding and antibiotics.
It's not too much to say that thanks to these chemical substances hiding close to us our life has become "rich" and "convenient", and we could actualized the days of "full feeding".
On the other hand, not only lifestyle-related diseases such as cancer, diabetes and arterial sclerosis suddenly increased, but also the allergic diseases due to "food-related illness" are going on increasing. It may be the times when we need the way of thinking that "your health should be protected by yourself".
I visited various places for lecture activities while being engaged in research and development of food for 35 years. When I asked them in a meeting place what kind of measures they took for health maintenance and improvement of illness, I was surprised at a great many answers that people used a great variety of supplements habitually. We should not jump at a good pitch of TV and advertisement, but review our eating habit. After that, if vegetables are apt to be short by all means, it is good to supply in green soup, and if we apt to lack vitamins, to supply short vitamins with a supplement is worth thinking.
Therefore it is calcium that I want to recommend by all means.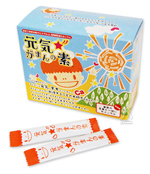 Genki☆Gaman (various minerals and fermentated Calcium L-lactate)
can be mixed with your favorite food, like soup
Calcium not only makes bones and teeth strong but also has an important work to maintain healthy life continuously. However, it is difficult to take in calcium enough only by a meal, and we can't store it. At the present time when processed food overflows, lack of calcium may trigger various diseases. We add and supply calcium and a slight amount of mineral to miso soup or curry as well as to cooking rice for many years in my home.
There are the following words in Japan.
"The food is life. We get sick if we take the wrong food. But if we take in right food, we'll recover from illness even when we get sick. Therefore, medicine and the meal are the same sources."
"Health was not built in a day."
I think that daily accumulation is important.
Series : About calcium and our health
Introduction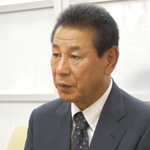 Kiyomichi Yamaguchi
The Director of "The workshop of Preventive Medicine", the President of "The workshop of the functional properties of fulvic acid and its derivatives".
He acts as a lecturer at lectures that major companies, newspaper companies, Pharmacist Association, Board of Education or other groups sponsor, and the number of times of his lectures that feature the theme of "actual situation of the food demolition", "threat of lack of calcium" etc. goes over 1,000.
He paused lecture activities and is now working on research and development of the genuine food in the present age when image products overflow, as the representative of the Food Science Research Laboratory BAOBAB, and the representative director of BAOBAB Co., Ltd.