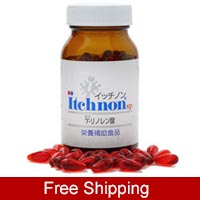 Itchnon -110 tablets
Item Number:
MG1451
Price:
10,584 YEN
≒ 76.21 USD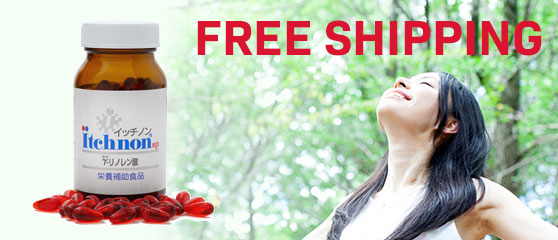 "Itchnon -110 tablets"Free shipping fee campaign now underway! (Attention: this campaign for purchasing a single item only. Not available for shipment with the other items.)
Now we offer you special campaign of free shipping so that we would love you to try and realize the goodness of this item. Purchase now during this special offer!
For example,
In case of shipping only one bottle of "Itchnon -110 tablets " to America…


Product price + shipping charge go to 11784 JPY normally,
but it costs only item price, 10584 JPY!
It will save you shipping fee of 1200 JPY!
*Using EMS in delivery only.
*Attention: this campaign for purchasing either single item only. Not available for shipment with the other items.
Japan "Itchnon" is currently the highest GLA nutritional supplement in the worldwide market.
This is supplement for your health and beauty, made from natural ingredients. The main compositions are gamma-linolenic acid (essential fatty acid) and vitamin E.
What is gamma linolenic acid?
The main ingredients of Itchnon series are gamma-linolenic acid and vitamin E. γ -linolenic acid (gamma-linolenic acid) is one of the fatty acids (essential fatty acid), which is absolutely necessary for our human body. It is the substance that produced by metabolizing linoleic acid within body. However, there are increasing people who cannot change linoleic acid to γ -linolenic acid smoothly in their body. The reasons are lack of metabolism enzyme and depression of its action, lack of vitamin and trace element, or stress. At the same time γ -linolenic acid is important component substance for cell membrane, it has important action as a precursor of prostaglandin 1 series, to maintain the function of body system and cells in a normal way.
Effect and efficacy of γ – linolenic acid
γ -linolenic acidhas various functions. As a result of repeating investigation by maker, it is proven the improvement of "blood cells fluidity". In other words, this makes red blood cells soft, and blood fluidity gets smooth as red blood cells become easier to get through blood vessel. This action is patented as "blood cells fluidity improvement agent" recently in Japan.
The details of proven effect of γ -linolenic acidis below.
Prevention and improvement of hypertension, blockade of cardiovascular system, and arterial sclerosis.
Prevention and improvement of complication from cerebral thrombosis, arterial sclerosis, and diabetes.
Improvement of kidney function.
Prevention and improvement of gastric ulcer.
Improvement of premenstrual syndrome (cramps etc.).
Improvement of constipation.
Improvement of asthma and nasal inflammation.
Prevention and improvement of arterial sclerosis.
Improvement of atopic dermatitis.
Prevention and improvement of osteoporosis.
Prevention and improvement of chronic articular rheumatism.
Improvement of skin condition (improvement of water holding ability and elastic of cell membrane).
Controlling fatty liver, improving hangover, improvement of liver function.
Ingredient:
Edible fat and oil (fat and oil including gamma-linolenic acid), vitamin E, gelatin, glycerin
Content weight per one tablet:
Gamma-linolenic acid: 50mg, vitamin E: 6mg
How to take:
Take 3 – 6 tablets per a day.
Best before period:
2years from manufacturing date
---
Macrobiotic..
This is a regimen that incorporates such concepts as Zen, Feng-Shui, Yin Yang and Tao. These concepts unify the essence of Japans spirituality and outlook on the Universe.. The purpose of the Macrobiotic Asia website is to bring together products from Nature''s bounty as well as processed products and deliver them to the world in the Japanese spirit of harmony.


Japanese Kudzu Powder 100g
968 YEN

Bio-Normalizer
6,804 YEN

Lift Up Source
3,980 YEN