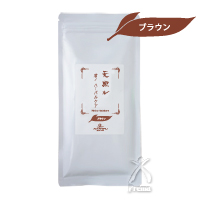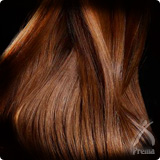 Premium Henna Brown 80g Amateru-kimi herbal care
Item Number:
AT0015
Price:
1,980 YEN
≒ 14.26 USD
An original blend which condenses Vedic wisdom; gently relaxing the mind while dyeing the hair beautifully.
A special blend scalp pack which combines 20 different herbs with proven benefits for improving the condition of the hair and scalp. Recommended to enhance hair shine and body, helpful for maintaining a healthy scalp and hair. Especially recommended for first-time users.
*Graying hair will be a slightly darker orange after dyeing.
The final color will differ, according to the amount of gray hair to be covered, hair type, and application time.
*For those people who wish to soften the appearance of brighter hair, we recommend that you continue to apply a dark brown or indigo color.
*There will be individual differences, but first-time users may find that colors do not permeate the hair well initially. With continued use, the hair will gain greater shine and luster and colors will merge naturally with your original hair.
*A feature of natural dyes is that hair color changes over one to two days following application, resulting in a more natural look thereafter (dependent on hair type and condition).
-Ingredients
Henna, walnut hulls, turmeric root, Indian gooseberry fruit extract, soapberry extract, acacia-concinna fruit extract, myrobalan fruit extract, camellia sinensis leaf, bacopa monniera extract, rose extract, Indian lilac, ocimum tenuiflorum extract, sandalwood extract, coffee seed extract, catechu, lemon peel, fenugreek seed extract, eclipta thermalis leaf extract, withania somnifera leaf extract, papaya.
-Content: 80g
-Application time: 45 minutes~no time limits (the hair will appear brighter with longer application time)
-Recommended amount: short hair 40g, long hair 80g
Storage method: After opening, seal well to prevent oxidation and store in a dry place.
What is Henna?
Henna is grown mainly in regions throughout India and is a dried leaf powder from the "Henna Tree" (Lawsonia Inermis) of the family Lythraceae. Henna has been used since antiquity as a natural, vegetable dye. It is said that in ancient Egypt, Cleopatra's beauty was enhanced by dyeing her nails and hair with henna. There are also records of henna being employed for numerous purposes in the Eastern practices of "Ayurveda".
Henna is superior as a natural hair treatment and contains no artificial colorings or preservatives. It is so soft on the hair that it can be used on a daily basis, beautifully hiding all traces of gray hair, while improving hair shine and body. It is perfect for hiding those gray areas or bringing life to damaged hair.
Amateru-kimi hair care series >>
---
Macrobiotic..
This is a regimen that incorporates such concepts as Zen, Feng-Shui, Yin Yang and Tao. These concepts unify the essence of Japans spirituality and outlook on the Universe.. The purpose of the Macrobiotic Asia website is to bring together products from Nature''s bounty as well as processed products and deliver them to the world in the Japanese spirit of harmony.


Japanese Kudzu Powder 100g
968 YEN

Bio-Normalizer
6,804 YEN

Lift Up Source
3,980 YEN