CEO Message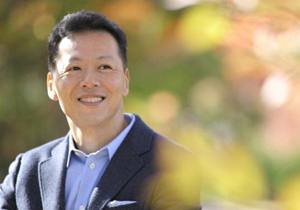 A warm welcome to all those who try to follow a natural way of life.
And welcome to our website, where you will find detailed information about our products and all about us.
We are located in Kyoto, a city that has it's roots far back in Japanese history.
Traditionally Japanese people lived in harmony with nature. However that mentality lost to a materialistic way of thinking somewhere along the road of the amazing economic development Japan experienced following the atomic bombings of Hiroshima and Nagasaki, and the end of the Second World War.
But recently some enlightened people in Japan who strive for a more natural life have hoped to recover our traditional nature-oriented mentality.
"Mottainai" is a key phrase in Japanese that shows that Japanese people traditionally highly value and take good care of the things they have. This concept has become increasingly important in today's modern mass-consumption society.
In addition, Japanese people are very sensitive to product quality. Therefore the Japanese can be said to be world class when it comes to taking care of things that have been carefully made from natural ingredients, just like the practitioners of a natural way of life do.
Prema has since it's establishing in 1999 grown to become a company supported by Japanese who have had their eyes opened to the majestic power of nature, and the wisdom passed down to us from ancient times. We have become the leading online shopping company dealing in natural food and other natural merchandise, and so far we have provided over 200.000 customers with natural products.
All of our products are very carefully and attentively screened and selected.
Only 8-9% of the natural products that are offered to us by our partner manufacturers are on this website. The selection starts with screening the energy level of the product - whether the product gives us energy or takes it away from us.
So far we have only provided our service in Japanese.
We believe that now is the time to start a global website in English to spread the Japanese wisdom of a natural way of life to all the people in the world.
Our mission:
We exist to help you cherish your loved ones, which we believe will also lead to somebody else's happiness and to our infinite future together
We also keep trying to make the world a better place by donating parts of our business profits.
We warmly invite you to take some time to explore our website and learn more about our products. We hope that our natural products work for the well-being of your body, mind and spirit.
Thank you for stopping by and enjoy!

Nobuo Nakagawa,
CEO of Prema Inc.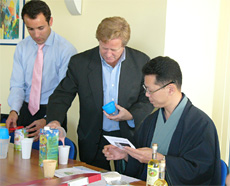 Prema Inc. CEO, Nobuo Nakagawa in Paris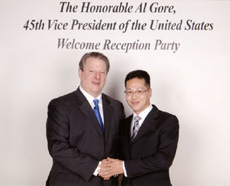 with Albert Arnold "Al" Gore in Tokyo