Let's introduce "Rakunatural"
September, 2007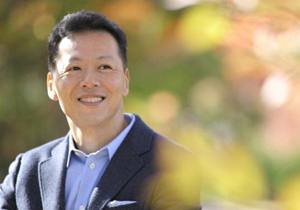 I started this job in 2000. At the time there was no specific word describing the kind of work we were doing. We always had to describe it in long sentences like: "Our job is to distribute products that make you feel the strong link that exists between people's health and the environment. We sell for example food products that have been made without any use of pesticides, functional foods, as well as other products that don't harm people or the environment."
In 1996 I realized that this was the work I wanted. At that time my daughter Ai was born in India, and the knowledge taught to me about "how people should be" by a midwife and acupuncturist who helped us was the final piece in the puzzle that started me on this way.
Atopic dermatitis is not a disease you can cure with medicine, raising children is not something you leave to the schools, live your life unaffected and sincere, with fortitude and vigor, energy resides in all things, and you should not try to defy the heavens.
While pondering these things for several years the convenient word LOHAS (Lifestyles Of Health And Sustainability) came into our vocabulary from USA. And then companies that in no way seemed to live by this motto started using the word. There were even held seminars about how to make money using the word, and it was hard to tell the good and the bad from eachoter.
But I thought that there was no need to fall in line and follow this foreign concept. I believed that there was an inherent characteristic in the East and in Japan that valued a way of life in accordance with heaven and earth. And I also learned that there were many others like me.
We carry on the belief that the lives that were meant for us are like LOHAS. To rid oneself of the unnecessary, follow the seasons, don't push yourself too hard, gain energy from your food, care for the harmony of things, help each other by instinct, and also be thankful for all things.
We decided to call this "Rakunatural". I believe the true meaning of this word is "Spreading love", "wisdom that binds us together", "never-ending prosperity", and "limitless gratitude".
Prema Inc. CEO Nobuo Nakagawa