Forgiving the unforgivable.
December, 2011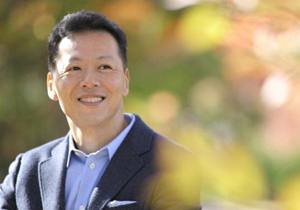 Just like that the New Year is here. How did you all experience the events of the year that was? I guess that many might have extremely heavy and painful memories. But I think there are many who feel that among those memories there were new things to be learned, and new encounters to be had. And I would like once more to pray for the peace of heart and recovery for all those who suffered and is suffering after the 3.11 disaster.
People sometimes meet people or events that are hard to forgive. This feeling is seen from one angle often explained as "appropriate anger", an important factor in furthering the development of a society. In my youth I believe the same thing, and directed my anger towards politicians and the contradictions in society. I thought that a revolution was possible. This might not be wrong for the purpose of improving the organization of society. However, in a strange way people who feel several things to be "unforgivable" tend to encounter more and more similar events.
Japan is the only country in the world to have suffered a nuclear attack in wartime. That still stands true to this day. I can describe how sorry I am that the same country that lost so many of its people to nuclear weapons had its people's life turned around by a nuclear power plant accident. Regardless of how we viewed nuclear power before we still live in a country that for a long time has relied on this power to support its export based industry. By gladly welcoming the benefits of a lifestyle with an abundant power supply we also accepted the dangers of electromagnetic waves, and the risk of pollution from the nuclear power plants as a set. I never believed the nonsense that nuclear power was kind to the environment just because it doesn't release CO2 like fossil fuels do, but I am still one of those people who are completely and utterly bound by the conveniences of a nuclear powered lifestyle.
Right after the nuclear accident, still baffled by the news and the pictures on the news, we decided to first of all do something everybody can do. We took a small part of the work day and dedicated it to sending our prayers to the people struck by the accident, and those still suffering under the fear of how the situation would develop. To shine a light for the people suffering, to give strength and thanks to the ones in Tohoku helping with the aid effort, and also a thanks to the nuclear power plant who had supported our lifestyles up until now. And even today our feelings of compassion towards the residents of Fukushima where many live their lives amidst high radiation levers. But I believe there is something we need to remember before we start point the finger at Tokyo Electric and the government. That is to remember how much we relied on the power that these nuclear power plants gave us, and to be thankful for that. When I put it this way it might sound like I'm pro-nuclear power, but that is not what I am trying to say. I have since the very beginning been against the use of nuclear technology, (not including medical use). But at the same time I have always kept in mind that there is a conscience in all things in this world, and the only thing that can bring harmony to disorder is gratitude. I have also always believed that people only act out of two reasons, love, or fear.
To forgive the unforgivable is a chance to become a person who forgives. The person hurt the most by something unforgivable is most likely the person who does not forgive. That feeling of not being able to forgive will again create other unforgivable events. Fear is also like this. Behind all fear lie the unknown, or the understandable, and sometimes this fear attacks people. And after this attack the fear of not knowing what will happen next gives births to even more fear, and in the end to an attack driven by the feeling of needing to protect oneself. Here lies the root of both the arms race and capitalism. The only thing that can break this chain is gratitude and the words "thank you". Who will be saved this is not some random stranger; it is you, and me. I would like to look back at the events of this year while keeping this all in mind, and ponder of what meaning this experience will have for us.
Prema Inc. CEO Nobuo Nakagawa