Don't reap the provisions needed for the future now
May, 2009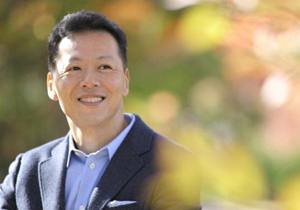 The Japanese government continues to announce additional economic political measures in rapid succession. At the time of writing the government has launched measures in the 15 trillion yen class, but this is all financed by construction debt and deficit-covering bond. What is so special about the situation now is that the value of government bonds (loan) issued this year surpasses the estimated tax income. Measures to turn around an economical recession are always welcomed by the people, and as a result the governments support rate is also expected to rise following this. This is of course good news for all those suffering under the current economical slump, so I do not intend to blindly criticize this, but I would like to explain it from another angle, the way I see it.
I sometimes have the chance to teach small classes aimed at executive managers/directors. When I explain how my company uses very little on advertising as opposed to other internet based companies, how we don't set any goals for sales, how we don't fix minimum amounts that our staff has to sell, all the participants are blown away by surprise. Normally a company like ours would spend a lot of broad advertising, work hard to reach sales targets, and apply minimum sales amounts for each staff in order to reach this common goal. We do the opposite. And there is a reason for why I decided to do run the company like this. It's best put into words like this: "Don't reap the provisions needed for the future now".
The natural world is run by cycles bound to certain laws. If you go to far to get what you want right now, you will without question have to pay for it at a later time. It is getting ever clearer that the overdevelopment and extreme load that we put on the environment will be inherited by our children, thus limiting their chances of survival. This is why the world has started to gain a common conscience about the necessity to care for the planet. Lately we have seen what happens when the financial community invests over their heads with loaned money, and it all comes crumbling down at the same time. We therefore now see movements to put restrictions on these chaotic investment tactics. Humans (are supposed to) learn from what happens before their eyes every day. "If you reap the provisions for the future now, there will be bitter consequences".
Some say that since it's just a "1 in a 100 year crisis" that it can be forgiven, but this is by no means the right way of dealing with this. Few of us live 100 years, and we have a bad habit of wanting to call all extreme events "exceptional". By starting my own business I have met both extreme misfortunes and incredible chances on several occasions. Looking back I believe that all of these events have taught me to always act calmly, and act thinking about how my actions will reverberate in the future. No matter of many chances or misfortunes I encounter, I would never take up loans that I would be unable to pay if the interest rate increased by just a little. If I did it would definitely come back to haunt me in the future. There is little doubt that actions like this aimed at instant relief for some problem will close many doors for yourself or others in the future.
I believe that we live in a time where the determination "Don't reap the provisions needed for the future now" has to be adopted by the environment, the private sector, and state leaders all across the world..
Prema Inc. CEO Nobuo Nakagawa