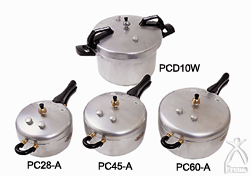 HEIWA Pressure Cooker PC60-A for 10-cup Rice Cooking
Item Number:
MU64450
Price:
31,900 YEN
≒ 243.16 USD
Aluminum Pressure Cooker for High Temperature/Pressure Cooking
-Aluminium High Pressure Cooker.
-Capable to minimize the cooking time to 1/3 at high temperature/pressure.
-Capable to make 4 roles of boiling, steaming, roasting and cooking by one equipment.
-Capable to cook brown rice soft and sticky.
-Not usable with electro magnetic cooking device.
High: 2.3atm 124 degrees centigrade
Low: 1.5atm 111 degrees centigrade
"KAM-KAM Pot" to be used: Type 5000, II-5000
---
Macrobiotic..
This is a regimen that incorporates such concepts as Zen, Feng-Shui, Yin Yang and Tao. These concepts unify the essence of Japans spirituality and outlook on the Universe.. The purpose of the Macrobiotic Asia website is to bring together products from Nature''s bounty as well as processed products and deliver them to the world in the Japanese spirit of harmony.


Japanese Kudzu Powder 100g
968 YEN

Bio-Normalizer
6,804 YEN

Lift Up Source
3,980 YEN