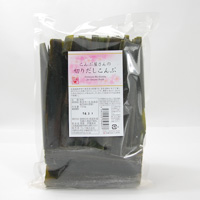 Premium Ma-Kombu for Umami Broth(150g)
Item Number:
00100549
Price:
1,135 YEN
≒ 10.81 USD
From the Kombu master to your kitchen.
Highly prized Ma-kombu from Hokkaido is dehydrated and carefully hand cut by the kombu master. Kombu contains amino acid, a naturally sweet and superior flavor enhancer so you can make perfect broth just like a chef.
-Ingredients;Ma-kombu (Hokkaido)
-How to store: Keep dry and avoid heat and direct sun light.
-Best before date: 360 days from production date.
*How to make the best broth
Wipe the Kombu lightly with a damp cloth and snip the sides in 2 or 3 places. Then soak it in water for about 3 hours. Next, heat up the water with the kombu still in it and your broth is ready. Just add a few drops of soy sauce or salt as you like.