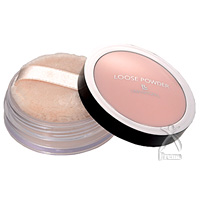 LOOSE POWDER (FACE POWDER) 10g
Item Number:
MU64138
Price:
5,103 YEN
≒ 46.49 USD
Long lasting, non-sticky silky powder.
Continues to cover skin with no change for a long time. Covers pores and wrinkles softly.
Using natural coral and non-preservative camellia oil, no artificial scent.
Use after our "liquid and pressed foundation."
Is also a Finish Powder.
Also apply to face to fix make-up that has melted.
Good for sensitive skin.
LIMA NATURAL Skin Care / Cosmetics >>
---
Macrobiotic..
This is a regimen that incorporates such concepts as Zen, Feng-Shui, Yin Yang and Tao. These concepts unify the essence of Japans spirituality and outlook on the Universe.. The purpose of the Macrobiotic Asia website is to bring together products from Nature''s bounty as well as processed products and deliver them to the world in the Japanese spirit of harmony.