LIMA NATURAL Dental White 60g
Item Number:
MU63426
Price:
2,530 YEN
≒ 24.20 USD
Whitening, Fresh Breath, Good Oral Hygiene
with Organic Sword Bean Extract
Natural toothpaste using natural BIO cleansing materials*1 made in the fermentation process of Nature, with pearl and coral powder*2 *3, organic sword bean extract*4. Contains natural mineral water from Chichibu and natural amino acid extract*5.
Pearl(Ehime)
Coral(Okinawa)
Organic Sword Bean(Hyogo)
*1 Made in the fermentation process with fast mixing of wheat bran, rice bran, natural minerals (Silica, iron oxide, alumina)
*2 Pearl Powder (abrasive)
*3 Coral Powder (abrasive)
*4 Humus Extract (base)
*5 Sword bean extract (moisturizer)
EFFICACY
Whitens teeth
Cleans inside the mouth, and stops bad breath
Cavity prevention
Removes surface stains
Removes plaques, and prevents calculus deposition
MADE IN JAPAN
Ingredients: water (base), calcium carbonate (abrasive), glycerin (humectant), sea salt (flavoring agent), silica (cleaning agent), polyglyceryl lauric acid -10 (cleaning agent), alginic acid Na (binding agent ), [nacre the end, the end of coral] (abrasive), Fulvic acid extract (base), [wheat bran, rice bran, iron oxide, alumina] (cleaning agent), zeolite (cleaning agent) [chamomile flower extract, clove extract, jack bean seed extract] (moisturizer), xylitol (flavoring agent), ricinoleic acid glyceryl (preservative), ethanol (base), [lemon peel oil, lemon grass oil, lime oil, mandarin orange peel oil, geranium oil, grapefruit peel oil, Mentha piperita oil, mint oil] (flavoring)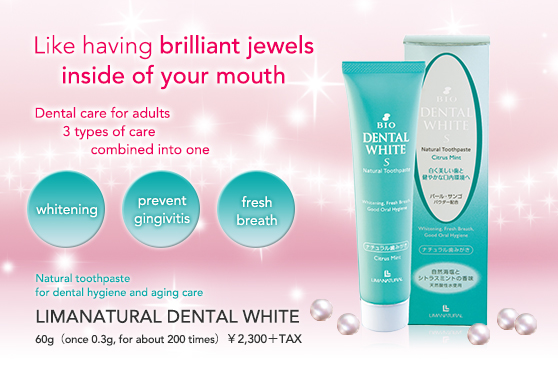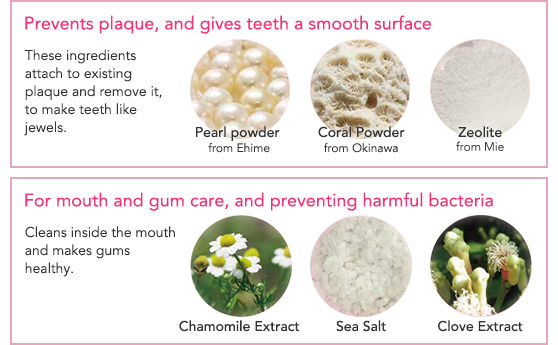 We use natural materials out of respect for the environment.
Wheat bran, rice bran enzymes and helpful microbes naturally
ferment to produce BIO.




* BIO cleaner was developed in Environmental Engineering & Technology
Research Institute by Dr. Takashi Hirai.






Natural Amino Acid extract from the earth, from the Hakua period.
It kills harmful bacteria in the mouth.




*our company's research






This plant was the model for "Jack and the Beanstalk."
It's a lively and powerful plant. Creates a good environment
in the mouth to stop bad breath, using amino acids and poly phenol.
LIMA NATURAL Skin Care / Cosmetics >>
---
Macrobiotic..
This is a regimen that incorporates such concepts as Zen, Feng-Shui, Yin Yang and Tao. These concepts unify the essence of Japans spirituality and outlook on the Universe.. The purpose of the Macrobiotic Asia website is to bring together products from Nature''s bounty as well as processed products and deliver them to the world in the Japanese spirit of harmony.