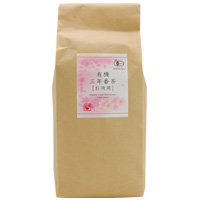 Organic Matured Coarse Tea
Item Number:
00100117
Price:
1,734 YEN
≒ 12.49 USD

Easy-to-make tea bag type, just pour hot water!
Carefully roasted organic mature coarse tea is packed into tea bags so it is really handy. You can easily enjoy the mild and sweet flavour and great aroma of this tea, just by pouring hot water over it. The stem and the leaves are mixed in excellent proportion. This product is suitable when you need a rest and to take a breath. At the pesticide and chemical free tea plantation, with a history of over 20 years, it is rumoured they spend as much time and effort on the tea leaves as they do rearing children! Much attention is paid to the maintenance of the soil, weeding in the summer, through to the harvest.
In order to fully extract the flavour of the tea, the cutting process of the stem and the leaves has been carefully considered. The tea is packed in tetra-pack, to enable the tea leaves to move around in the bag.
Generally, green tea or coarse tea uses the sprout, however, this matured coarse tea is left for three years before harvest, and then dried and ripened for a period of time. This special process enables the decomposition of the sharp component and brings out a mild flavour.
- Ingredient: Organic green tea
- Best-before date: One year from production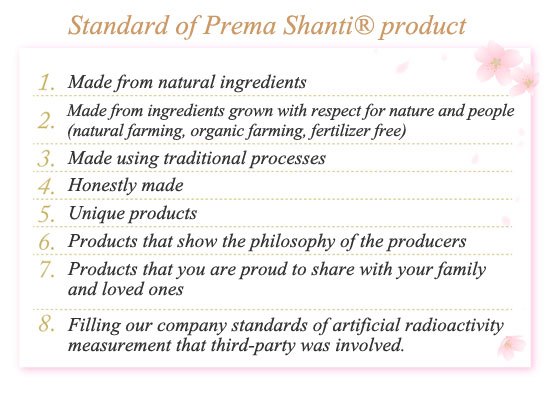 Other Prema Shanti Series products >>
---
Macrobiotic..
This is a regimen that incorporates such concepts as Zen, Feng-Shui, Yin Yang and Tao. These concepts unify the essence of Japans spirituality and outlook on the Universe.. The purpose of the Macrobiotic Asia website is to bring together products from Nature''s bounty as well as processed products and deliver them to the world in the Japanese spirit of harmony.


Japanese Kudzu Powder 100g
968 YEN

Bio-Normalizer
6,804 YEN

Lift Up Source
3,980 YEN