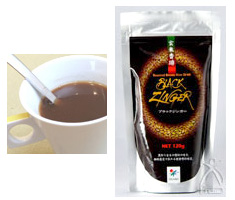 Black Zinger [family-size pack] 120g
Item Number:
27.5
Price:
2,980 YEN
≒ 27.41 USD
We are sorry that this item is discontinued.Thank you for your past patronage.
New Black Zinger Roasted brown rice drink on Sale!

Domestic Organic Brown Rice is used and a special technique used for the roasting.The resulting super fine powder is efficiently absorbed into your body to give well balanced nutrition. With its great roasted flavour, it can be used as a coffee substitute for your healthy lifestyle.
Black Zinger is made from the powder of charred brown rice, and we recommend it to anybody who wants to live a healthy daily life.
Black Zinger is a quality product and has gained many devoted customers.
Anyone can appreciate the spicy flavor of Black Zinger and take advantage ofit's high amount of yang energy. Enjoy it's wonderful benefits as you incorporate it in to your macrobiotic lifestyle.
You can savor Black Zinger just as you would do with a good cup of coffee. Add 2g of Black Zinger to 150cc of hot water, and mix well. Your warming healthy brew is ready to drink! According to personal preference, you can combine it with hot milk, tea, or coffee. There are so many ways to enjoy Black Zinger. With cold mineral water, you can make a black tea. Or mix it with yoghurt. You can even enjoy it as a topping for ice cream, and much more!
- Country of manufacture: Japan
- Ingredients: Brown rice
- Expiration date: Two years and two months from the date of manufacture
- Preservation method: Store away from heat and moisture
- How to drink: Mix 2g (approximately 1 tea spoon) of Black Zinger with hot water or cold water at a time, about three times a day. (If you like a stronger taste, use 5-6g of the powder at a time) Black Zinger can also be used in other drinks or food.
>>What is Macrobiotic, Yin and Yang?
>>The Potential of Charred Food
---
Macrobiotic..
This is a regimen that incorporates such concepts as Zen, Feng-Shui, Yin Yang and Tao. These concepts unify the essence of Japans spirituality and outlook on the Universe.. The purpose of the Macrobiotic Asia website is to bring together products from Nature''s bounty as well as processed products and deliver them to the world in the Japanese spirit of harmony.