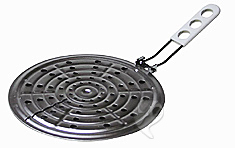 MASTER COOK Cooking Gas Mat (Dia. 20cm)
Item Number:
MB3859
Price:
1,296 YEN
≒ 12.39 USD
Just put on the cooker, this product will make you a talented cook with mild heat conduction
-This product will prevent your food from boiling over or burning. Simply place it under earthenware pots, stainless steel pots, frying pans etc.
-This also helps to regulate the intensity of the gas flame, allowing dishes that are cooked with lower heat such as porridge and stews to be more flavorful and delicious.
Country of Manufacturing: Japan
Dimension: width 200mm x thickness 5mm
Material:Steel
---
Macrobiotic..
This is a regimen that incorporates such concepts as Zen, Feng-Shui, Yin Yang and Tao. These concepts unify the essence of Japans spirituality and outlook on the Universe.. The purpose of the Macrobiotic Asia website is to bring together products from Nature''s bounty as well as processed products and deliver them to the world in the Japanese spirit of harmony.