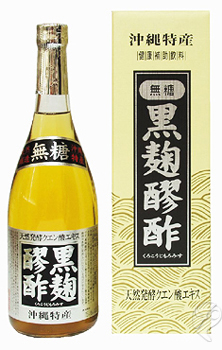 Vinegar from Unrefined Sake and Black Rice Malt (without Sugar)720ml
Item Number:
MB2168
Price:
2,160 YEN
≒ 19.07 USD
This product has low acidity and mild flavor.
-This is a natural beverage made from "Moromi (Unrefined Sake)" that Okinawa's regional liquor "Awamori" is also made from.
-Without any content of sugar, this product is recommendable for the person worrying about sugar or caloric value.
-Take as a standard, 1-2 cups a day with attached measurement cup.
Ingredients: Moromi from rice (rice: imported from Thailand) & black rice malt.
Best before first opening from the date of production: 1 year and a half after at room temperature
---
Macrobiotic..
This is a regimen that incorporates such concepts as Zen, Feng-Shui, Yin Yang and Tao. These concepts unify the essence of Japans spirituality and outlook on the Universe.. The purpose of the Macrobiotic Asia website is to bring together products from Nature''s bounty as well as processed products and deliver them to the world in the Japanese spirit of harmony.