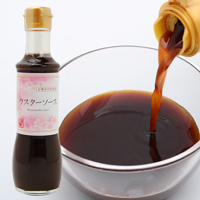 Worcestershire sauce (200ml)
Item Number:
00100082
Price:
469 YEN
≒ 3.41 USD
Worcestershire sauce with the vivid taste of all ingredients.
Only organic ingredients used to create a mild sauce which will enrich your dish. Organic onion, celery, carrot and spices are processed carefully with enzyme so that the ingredients retain their natural flavors and their components are not destroyed. Organic soy sauce, organic sugar, organic vinegar and sun dried salt are then blended in.
Excellent for fried dishes, stir fry noodles and curries. The various vegetable flavors add an extra rich and deep taste to any braised dish.

-Ingredients:Organic soy sauce (Non-GMO soy bean, wheat), organic sugar, organic rice vinegar, organic apple vinegar, Vegetables and fruit (organic onion, organic tomato, plum, etc) salt, spices
-How to store: Keep dry and avoid heat and direct sun light.
After opening, seal tightly and keep in the refrigerator.
* Shake well before using.
-Best before date: 2 years from production date.


Japanese Kudzu Powder 100g
968 YEN

Bio-Normalizer
6,804 YEN

Lift Up Source
3,980 YEN