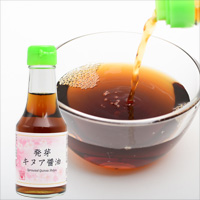 Sprouted Quinoa Shoyu
Item Number:
00100637
Price:
745 YEN
≒ 5.42 USD
Quinoa fermented with Koji. NO Wheat or Soy bean
The popular super food Quinoa belongs to the Spinach family. Grown without any fertilizer or pesticides in the harsh natural environment of South America, this Quinoa is soaked in water then germinated and fermented slowly using the masters traditional technique. This Shoyu sauce has a unique flavor from the fermented Quinoa but is light with a umami taste. It can be used for soups, vegetable seasoning or noodle soups the same as light soy sauce.
-Ingredients:Quinoa, Salt (used sea salt from Nagasaki)
-How to store: Keep dry and avoid heat and direct sun light.
After opening, seal tightly and keep in the refrigerator.
* Shake well before using as the natural sediment may remain on the bottom.
-Best before date: 720 days from production date.


Japanese Kudzu Powder 100g
968 YEN

Bio-Normalizer
6,804 YEN

Lift Up Source
3,980 YEN