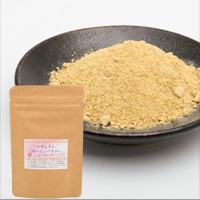 Yacon Powder ~Natural~(50g)
Item Number:
00100568
Price:
1,296 YEN
≒ 10.13 USD
Low temperature dried Yacon powder suitable for Raw food
Yacon has been valued in the South American Andes from ancient Inca times for nutrition, beauty and health. This Yacon is cultivated around Aoki village in Shinshu where no pesticides and chemical fertilizers are used. Yacon potato is called the King of oligosaccharides because the Fructo-oligosaccharide content is the highest among the vegetables. It contains as many polyphenols as red wine. It also contains dietary fiber, beta carotene and vitamin C. Natural sweetener from Yacon powder is suitable for Raw sweets or Umami seasoning for Japanese dish. Recommended for people who have a restricted sugar intake.
-Ingredients:Yakon (from shinshu)
-How to store: Keep dry and avoid heat and direct sun light.
-Best before date: 1 year from production date.