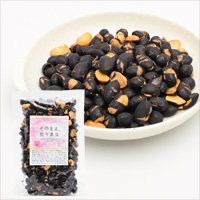 Roasted Black-Soy beans-Natural-(100g)
Item Number:
00100565
Price:
522 YEN
≒ 3.76 USD
Natural sweetness from domestically cultivated roasted black beans.
The aroma of this roasted Soy Bean will change your perception of soy snacks. No added seasoning whatsoever, just hot air blast roasted soy beans. Only organic soy beans used. The unique texture of the soy bean skin combined with the beans crunchiness and natural sweetness means that it is difficult to stop eating them. Excellent with beer and also a good healthy snack for the kids. Cooking them with rice and seasoning is a good idea too.
-Ingredients:Organic black soy beans (domestic)
-How to store: Keep dry and avoid heat and direct sun light.
After opening, seal in an air tight container.
-Best before date: 180 days from production date.



Japanese Kudzu Powder 100g
968 YEN

Bio-Normalizer
6,804 YEN

Lift Up Source
3,980 YEN