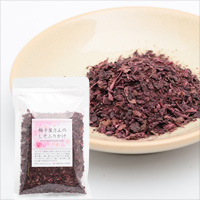 Ume pickled Red Perilla Flakes (50g)
Item Number:
00100621
Price:
302 YEN
≒ 2.23 USD
Enjoy the fresh tanginess and natural color of this sprinkle seasoning.
Red Shiso leaves(red perilla), which have been pickled with the umeboshi plum, are then dried and flaked in the traditional manner. All natural and no additives. Ideal for sushi and rice balls. Also great for salad dressings, dips and pasta or vegetable dishes.
-Ingredients: Shiso (domestic), ume plum vinegar, salt
-How to store: Keep dry and avoid heat and direct sun light.
After opening, seal in an air tight container.
-Best before date: 90 days from production date.



Japanese Kudzu Powder 100g
968 YEN

Bio-Normalizer
6,804 YEN

Lift Up Source
3,980 YEN