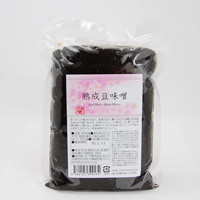 Red Miso ~ Bean Miso~(500g)
Item Number:
00100564
Price:
890 YEN
≒ 6.48 USD
Thick, dark and rich red miso
Slowly aged in the traditional manner for at least 2 years, Soy beans with koji and salt are transformed into the full flavor of red miso. Enjoy the deliciousness which comes from the highest quality ingredients and nature. Great for miso soup as well as hot pot.
-Ingredients: soybeans (domestic, non-GMO), sun-dried salt
-How to store: Keep dry and avoid heat and direct sun light.
After opening, seal tightly and keep in the refrigerator.
-Best before date: 365 days from production date.



Japanese Kudzu Powder 100g
968 YEN

Bio-Normalizer
6,804 YEN

Lift Up Source
3,980 YEN