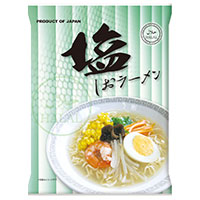 Halal Instant Shio Ramen ~ salt taste ~
Item Number:
00400426
Price:
151 YEN
≒ 1.15 USD
Non fried Instant Noodles made from 100% Hokkaido wheat. Produced in an authorized Halal factory in Japan.
This Ramen noodle is low in calories, very healthy and Halal certified.
Cooking method
1.Put 500cc - 550cc of water in a pot and bring to boil. Put in Ramen and cookfor approx 5 minutes. (adjust water quantity and cooking time as desired)
2.When cooked, turn off heat, add the powder soup from sachet and stir well.
3.Add Spring Onion, Leek or Menma as you prefer.
-Ingredients:Wheat flour, starch, salt,soy sauce powder, sugar, vegetable powder,spice, glucose, kombu powder, sesame oil, amino acids,carbonated water, caramel pigment,sesame
-Weight: 80g
-How to store: Keep away from direct sunlight, high temperature and high humidity.Also keep away from items which have a strong odour as this smell may permeate the noodles.
*Halal Certification Group:Japan Islamic Trust



Japanese Kudzu Powder 100g
968 YEN

Bio-Normalizer
6,804 YEN

Lift Up Source
3,980 YEN