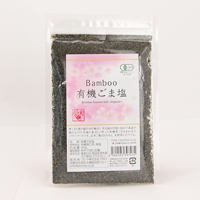 Bamboo Sesame Salt-Organic-
Item Number:
00100404
Price:
275 YEN
≒ 1.98 USD
Bamboo sesame salt. A resource of power from the fire of bamboo salt and black sesame
[Using bamboo salt imported by our company]
It became the Japanese traditional sesame salt when Korean secret bamboo salt and the roasted flavour of sesame are put together. The "bamboo salt" is a roast salt processed by jamming natural sea salt into a bamboo tube and burning it at a high temperature. It is said that the more we burn salt repeatedly, the stronger the power of fire it can get, but they also said that it is difficult to use for cooking as the one burnt several times will acquire the smell of sulfur. To be able to use only its energy without caring about the smell, we blended an appropriate amount of salt which was burnt only once with another salt that was burnt three times. Then we mixed roasted organic ground sesame with it. We also add un-ground sesame so that you are able to feel the texture when you eat it with rice. For those who are concerned about the consumption of salt, or for small children, we put a lesser amount of salt, and brought out the rich flavour that sesame has. As the method of roasting is very important for sesame, this product uses the delicious flavour of black sesame roasted by "artisan's hand". This sesame salt has the slight sweetness of sesame and it is also quite tasty to just take a lick of it as it is.
-Ingredients;Organic black sesame, roasted salt(natural sea salt)
-Consume within 6 months
-How to store: Keep away from direct sunlight, high temperature and high humidity.
*After opening, seal in an air tight container and consume as soon as possible.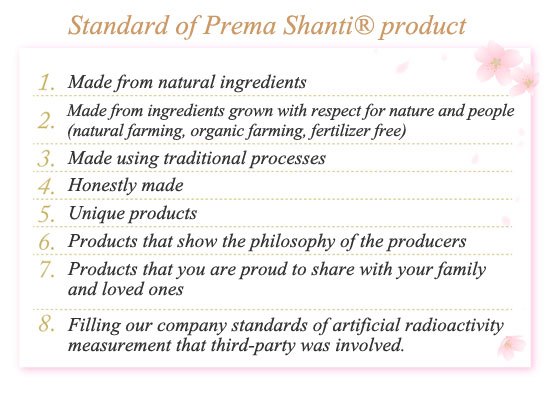 Other Prema Shanti Series products >>
---
Macrobiotic..
This is a regimen that incorporates such concepts as Zen, Feng-Shui, Yin Yang and Tao. These concepts unify the essence of Japans spirituality and outlook on the Universe.. The purpose of the Macrobiotic Asia website is to bring together products from Nature''s bounty as well as processed products and deliver them to the world in the Japanese spirit of harmony.


Japanese Kudzu Powder 100g
968 YEN

Bio-Normalizer
6,804 YEN

Lift Up Source
3,980 YEN