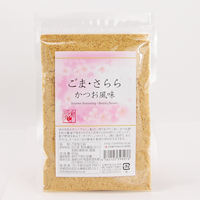 Sesame Seasoning-Bonito flavor-
Item Number:
00100458
Price:
275 YEN
≒ 1.98 USD
For pasta and dressing; Useful seasoning for any dishes
This is a seasoning made of only sesame, soy sauce and the flavour of dried bonito without adding any sugar. Use as an additional taste to a dish dressed with sesame sauce, salad, or as dried dressing. Also for one of the tastes of Japanese style pasta ?this is a useful seasoning that can be used in various ways depending on your cooking ideas. With the simple taste from roasted sesame, dried bonito which gives "Umami", (the base of Japanese taste), only soy sauce is used to adjust the taste. When you need a sweet taste, add any sweetening ingredient and adjust to your taste preference. You can get your "original homemade taste" by your original ways of use.
-Ingredients; powder soy sauce, grated Bonito, salt
-Consume within 6 months
-How to store: Keep away from direct sunlight, high temperature and high humidity.
*After opening, seal in an air tight container and consume as soon as possible.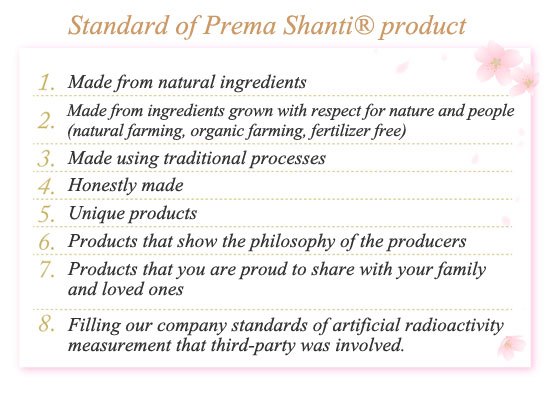 Other Prema Shanti Series products >>
---
Macrobiotic..
This is a regimen that incorporates such concepts as Zen, Feng-Shui, Yin Yang and Tao. These concepts unify the essence of Japans spirituality and outlook on the Universe.. The purpose of the Macrobiotic Asia website is to bring together products from Nature''s bounty as well as processed products and deliver them to the world in the Japanese spirit of harmony.


Japanese Kudzu Powder 100g
968 YEN

Bio-Normalizer
6,804 YEN

Lift Up Source
3,980 YEN