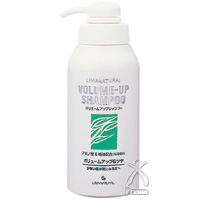 VOLUME-UP SHAMPOO (400ml)
Item Number:
MU64261
Price:
2,750 YEN
≒ 20.96 USD
For those who want to boost volume
"Tsubaki" oil (Camellia oil) blended
-Functional series protecting hair : Protein and amino acid improve resilience and enhance strength.
-Helps give hair beautiful, natural voluminous looking, For damaged hair.
-No parabens.
-Directions : Release an adequate quantity into your hand and rub it gently until a rich lathar is formed. Apply it and massage scalp with the balls of fingertips. Rinse thoroughly.
Ingredients: Water, lauroyl methyl alanine Na, lauric acid polyglyceryl -10, Kokamidomechiru MEA, cocamidopropyl betaine, cocoylisethionate Na, glycerin, camellia oil, Fumusuekisu, damask rose flower water, assembly extract, angelica root extract, clove extract, ginger rhizome extract, peppermint leaf extract, Brown algae extract, red algae extract, tea leaf extract, alanine, behenyl PG trimonium chloride, lauroyl glutamate dioctyl de de Seth -5, lauroyl arginine, dihydroxypropyl arginine HCI, phenoxyethanol, capryloyl glycine, bis diglyceryl polyacyl -2 adipate, di lauroyl glutamic acid lysine Na, glyceryl stearate, fragrance, candelilla wax, hydroxyethyl cellulose, lactic acid, ethanol
Shelf life: 3 years at room temperature.
LIMA NATURAL Skin Care / Cosmetics >>
---
Macrobiotic..
This is a regimen that incorporates such concepts as Zen, Feng-Shui, Yin Yang and Tao. These concepts unify the essence of Japans spirituality and outlook on the Universe.. The purpose of the Macrobiotic Asia website is to bring together products from Nature''s bounty as well as processed products and deliver them to the world in the Japanese spirit of harmony.


Japanese Kudzu Powder 100g
968 YEN

Bio-Normalizer
6,804 YEN

Lift Up Source
3,980 YEN