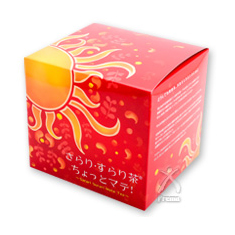 Sarari Surari tea with Chotto Mate!
Item Number:
00100347
Price:
2,800 YEN
≒ 20.16 USD
For you who are meat eater, restaurant goer, and who likes fatty foods.
In order to be suitable for serving with meat and fish, we added rich amount of mate from Southern America, which is called drinking salad.
Size: 180g (6g * 6 tea bags * 5 packs)
Ingredients: Mate tea, Salacia, tear grass, sicklepod, mulberry leaf, Korean houttuynia, gymnema sylvestre, salt (qui power salt)
How to enjoy:
Put one tea bag into about one litre of water, and then boil it.
When it gets boiled, reduce heat to low and decoct well for about five minutes so that tea can get the components well. ("To decoct well", we call "Senjiru" in Japanese.)
Enjoy after taking out the tea bag.
You can enjoy good taste of tea with both hot and cold, but we recommend taking hot tea or normal temperature if you do not make your body cool.
Especially, take this tea if you are meat eater or restaurant goer, or in case you worry about your diet balance.
Expiry date before opening: two years after the production
Storage condition: Keep at room temperature, away from direct sunlight.
Nutritional component indication (per 100ml)
Energy: 0kcal
Protein: 0kcal
Fat: 0kcal
Carbohydrate: 0kcal
Sodium: 0kcal
---
For you who are meat eater, restaurant goer, and who like fatty foods.
Although I am eating less sweet or carbohydrate food, is it really all right with my diet balance? In my busy life, I tend to be restaurant goer and eat much fatty foods… I would love to refrain from meat and fish, but I cannot stop eating meat!
To respond to such the worries, "Sarari Surari tea with Chotto Mate!" is produced. ("Chotto Mate" means "wait for a moment!" in Japanese. In this case, "mate" has two meaning both "mate leaves" and "wait".)
Everyone who likes sweets, who is grain eater, who eats macrobiotic diet or raw diet…"Sarari Surari tea" has been maintaining everyone's beauty and health and loved by everyone. Based on such the concept, we added rich amount of mate from Southern American, which is called drinking salad so as to suit for meat and fish dishes. The harmony with main components of Salacia and Eastern herbs covers your wide range of diet life. In the morning, lunch, dinner… this can help who eats any foods such as rice, noodle or sweets at night.
"Chotto Mate" always supports your active lifestyle. Let's enjoy our life with good meal!
We recommend you a little bit bitter taste of "Chotto Mate!" for who;
Who is restaurant goer or eats ready-made convenience foods a lot.
Who likes everything such as rice, meat, fish, and sugar.
Who often goes drinking to socialize or business entertaining.
Who likes fatty foods.
Who is said "you are meat eater."
In case you take this with rice, bread or sweets, or you would like to enjoy with all of your family, we recommend you "Sarari Surari tea" as it has milder taste.
---
Macrobiotic..
This is a regimen that incorporates such concepts as Zen, Feng-Shui, Yin Yang and Tao. These concepts unify the essence of Japans spirituality and outlook on the Universe.. The purpose of the Macrobiotic Asia website is to bring together products from Nature''s bounty as well as processed products and deliver them to the world in the Japanese spirit of harmony.


Japanese Kudzu Powder 100g
968 YEN

Bio-Normalizer
6,804 YEN

Lift Up Source
3,980 YEN