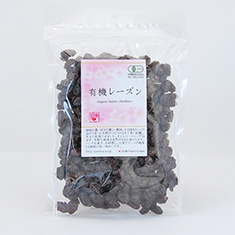 Organic Raisin-Seedless- 250g
Item Number:
00100342
Price:
498 YEN
≒ 3.59 USD
Organic raisin with the taste of sun and nature.
We make ripen grape with much sun exposure dry. This is organic raisin without being coated oil. We harvest organically cultivated grape and make it dry with skin remained. It has simple and natural taste. Rich flavour and strong sweetness are its characteristics and this is because the ingredient grew up under enough sun exposure. Use it by mixing into bread, cookies, or cakes. When you mix it for making baked sweets and reduce sugar, its rich and fruity taste of raisin stands out and it will get different baked sweets from usual. It is also perfect for making the seeds of the wild yeast.
Raisin contains rich in minerals such as kalium, calcium, iron, zinc, magnesium and so on. The fat is low and it does not have cholesterol. (Reference by Standard tables of food composition in Japan 2010). As it contains much of fructose and glucose which is rapidly absorbed into body, it plays important role in supplying energy on the way of sport like mountain climbing. It is also useful for conservative food for emergency case as it has good keeping and light and small.
*Be careful that there may be rare case that grapes with seeds are mixed
*Sometimes the surfaces of the fruits get white by coming out sugar content of the raisin, but there is no problem for the quality.
[Attention]
Recommended to keep airtight stopper in refrigerator after opening to avoid moisture, mold and bugs. Also consume shortly after opening.
-Best before date: six months
-Quantity: 250g
-Ingredients: organic raisin (from USA)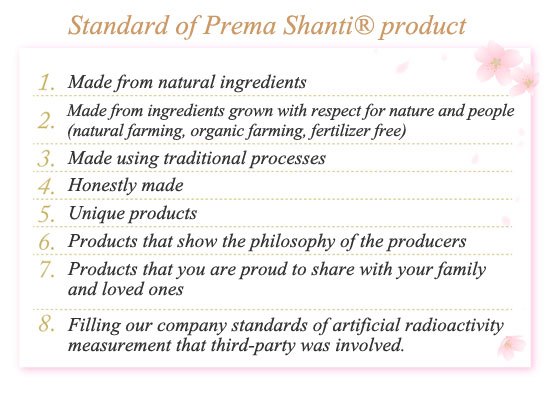 Other Prema Shanti Series products >>
---
Macrobiotic..
This is a regimen that incorporates such concepts as Zen, Feng-Shui, Yin Yang and Tao. These concepts unify the essence of Japans spirituality and outlook on the Universe.. The purpose of the Macrobiotic Asia website is to bring together products from Nature''s bounty as well as processed products and deliver them to the world in the Japanese spirit of harmony.


Japanese Kudzu Powder 100g
968 YEN

Bio-Normalizer
6,804 YEN

Lift Up Source
3,980 YEN