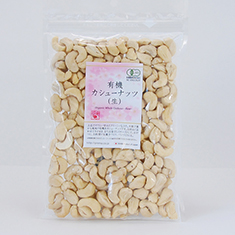 Organic Whole Cashews-Raw- 200g
Item Number:
00100354
Price:
1,270 YEN
≒ 9.15 USD
Organic cashew nut with rich flavour.
Salt free and uncooked raw organic cashew nut. Deep rich sweetness and soft crunchy texture are its characteristics. As they are unpicked, there are some variation in size. This is non roasted (non-fried) type, however, you can easily use for cooking, baking bread and sweets. When you roast lightly by fried pan, toaster or oven, it gets crunchy texture and the flavour gets richer. Without roasting it, chop or make the raw cashew nut into powder, and then use it for cooking or making sweets, the dishes get different than usual with the rich taste of fresh cashew nut. It is a good match with spices or ingredients of animal protein like chicken, and it is also commonly used for Chinese and Indian dishes.
Cashew nut contains rich in minerals such as magnesium, iron, zinc, copper and so on. It is a nut containing rich in oleic acid like almond. In particular, the content percentage of vitamin B1 is very high compared with the other nuts or grains (Reference by Standard tables of food composition in Japan 2010)
* Sometimes cracked or broken cashew nuts may be mixed inside, but there are any problems for the quality.
[Attention]
*This product is not "raw" according to the strict definition as it dries with hot wind after the harvest.
-Best before date: six months
-Quantity: 120g
-Ingredients: organic cashew nut (from Vietnam or India)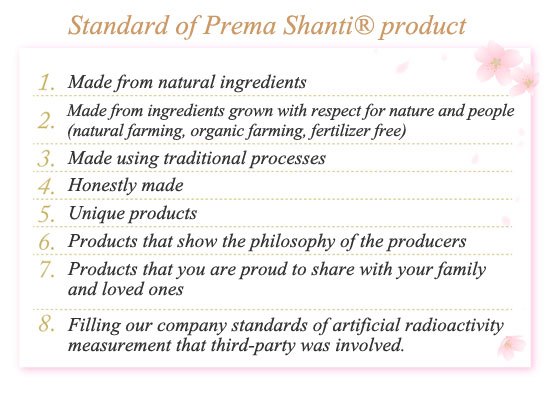 Other Prema Shanti Series products >>
---
Macrobiotic..
This is a regimen that incorporates such concepts as Zen, Feng-Shui, Yin Yang and Tao. These concepts unify the essence of Japans spirituality and outlook on the Universe.. The purpose of the Macrobiotic Asia website is to bring together products from Nature''s bounty as well as processed products and deliver them to the world in the Japanese spirit of harmony.


Japanese Kudzu Powder 100g
968 YEN

Bio-Normalizer
6,804 YEN

Lift Up Source
3,980 YEN