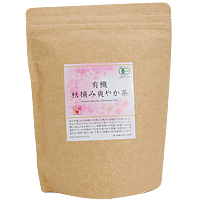 Autumn Bancha ~Heirloom Tea~
Item Number:
00100327
Price:
845 YEN
≒ 6.61 USD
No agrichemical, no chemical fertilizer! Bancha picked up in autumn
This Autumn Bancha (coarse tea) has been consumed only by farmers and their local area for a long time. It is for daily use tea with light taste and bitterness.
This tea is cropped during limited period; around equinoctial week in September, when it is the fresh weather like beginning of summer. Its amount of crop is small and the tea is carefully roasted in cauldron. The tea leaves had a lot of sun exposure and grew bigger. It has more energy as it stores much nutrition to make it through the winter. Tea, in this time, has more polysaccharide than first picking tea. Moreover, it is precious tea as it is also delicious with cold brew. You can enjoy light taste with cold brew, and fresh taste with Tannin when it is distilled with hot water.
In the process of roasting in cauldron, it depends everything on artisans' experiences, sense, and intuitions. This is the reason why they roast tea by getting measure of the weather and water amount of cropped tea leaves. They are distinguishing the difference of slight colour of tea leaves and adjusting the fire volume while monitoring the fire condition, smoke and smells coming up from cauldron; all these are important factors for the finishing.
For the ingredient, no agrichemical, chemical fertilizer, and herbicide are used. Weed on the tea field is picked up constantly by hands. Tea fields are spreading in steeply pitched mountain surface. It is hard work to pick up weed along the ridge little by little at such a place. However, we think nothing extra is needed for daily tea that anyone can drink. We are producing integrated production in a mutually trusting relationship from the process of its growing till cauldron roasting.
-Ingredients:Organic Tea leaf ( from Japanese domestic)
-Quantity:200g
-Best for date:360 days after the production
[Recommended way to take]
Put in adequate dose of tea leaves into tea pot. Pour boild water and stay it to extract as you want. Then serve into each cup.
-In the case of distilling with water
Pour about 1 liter of water against 30g of tea leaves. Leave it in refrigerator overnight (over 4 hours).
*Take out the tea leaves, as it losts good flavour and taste of the tea when tea stays in water over 12 hours.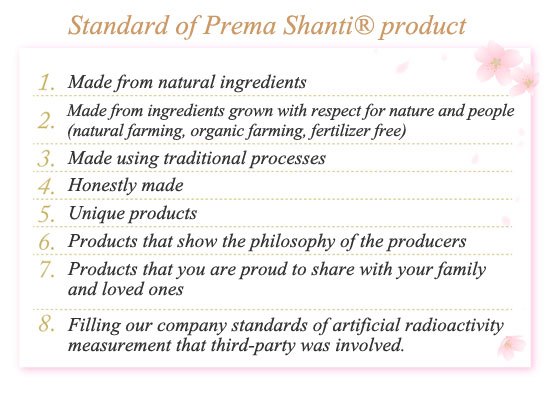 Other Prema Shanti Series products >>
---
Macrobiotic..
This is a regimen that incorporates such concepts as Zen, Feng-Shui, Yin Yang and Tao. These concepts unify the essence of Japans spirituality and outlook on the Universe.. The purpose of the Macrobiotic Asia website is to bring together products from Nature''s bounty as well as processed products and deliver them to the world in the Japanese spirit of harmony.