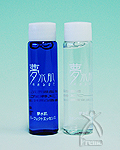 OrBS Yumemihada "Mini Set"
Item Number:
OBS048
Price:
500 YEN
≒ 3.48 USD
We are sorry that this item is discontinued.Thank you for your past patronage.
For first time users who wish to test compatibility
Contents:
-
Skin Base Water 7ml
(1- 2 applications)
Ingredients: water, mulberry bark extract, saxifrage extract, gardenia extract, Japanese basil extract
-
Perfect Essence 7ml
(6 - 7 applications)
Ingredients: water, glycerin, pentylene glycol, grapefruit seed extract, BG, coptis Japonica root extract, eucalyptus globulus oil
---
OrBS's "Yumemihada" series: clear, soft skin is yours, with highly refined eucalyptus oil and pure water from OrBS Ltd.
OrBS Ltd. is a company that researches the role of water in living skin cells. The skin's softness depends on the percentage of water stored in skin cells, and skin clarity depends on the density of that water. The Yumemihada series was developed on the basis of this research and using OrBS water.
OrBS pure water density is as high as that of the skin. It permeates your skin meaning cells retain their full moisture content.
OrBS skin care series >>
---
Macrobiotic..
This is a regimen that incorporates such concepts as Zen, Feng-Shui, Yin Yang and Tao. These concepts unify the essence of Japans spirituality and outlook on the Universe.. The purpose of the Macrobiotic Asia website is to bring together products from Nature''s bounty as well as processed products and deliver them to the world in the Japanese spirit of harmony.