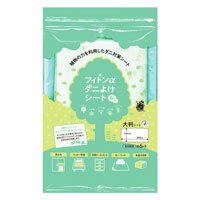 Fitton Alpha Tick Repellent Sheet 1 sheet/100×200cm
Item Number:
00701896
Price:
1,518 YEN
≒ 11.47 USD
Simply lay it where ticks are bothering you! Repellent plant ingredients create a barrier space.
No insecticidal ingredients are used. The phytoncide effect of plants creates an environment where mites are less likely to live, and the fresh fragrance can be used to eliminate odors in closets, wardrobes, and other places.
The sheet type can be used anywhere and is made of non-woven fabric with good air permeability. The sheet is made of breathable non-woven fabric and can be cut to any size for use.
Use it under futons and beds, on carpets, in closets, and anywhere else you are concerned.
Repels dust mites (99.9%), repels cockroaches (99.9%), and deodorizes an average of 91% (ammonia 80%, acetic acid 88%, isovaleric acid 97%).
Ingredients: PP nonwoven fabric, phyton alpha, hiba oil, copaiba oil, vetiver oil, hinoki oil, silica
Period of use before opening the package from the date of manufacture: 1 year before opening the package, effective for about 6 months after opening the package
Translated with www.DeepL.com/Translator (free version)
---
Macrobiotic..
This is a regimen that incorporates such concepts as Zen, Feng-Shui, Yin Yang and Tao. These concepts unify the essence of Japans spirituality and outlook on the Universe.. The purpose of the Macrobiotic Asia website is to bring together products from Nature''s bounty as well as processed products and deliver them to the world in the Japanese spirit of harmony.


Japanese Kudzu Powder 100g
968 YEN

Bio-Normalizer
6,804 YEN

Lift Up Source
3,980 YEN