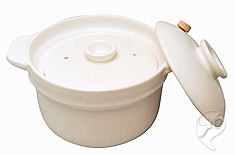 MASTER COOK Earth Ware Pot for 1.5-cup Rice Cooking (1L)
Item Number:
MB3865
Price:
6,458 YEN
≒ 49.23 USD
Elevated capacity of this equipment to store heat by thicker wall and double lid structure realizes the authentic rice cooking as if a real and traditional kitchen range were used
-With elevated power of heat storage generated by the wall thicker than conventional ones, this merchandise realizes the rice cooking just like in the authentic way using traditional (metallic) rice cooking stove.
-Deep edge structure resolves the blow-out and shedding of rice from the pot maintaining the taste and sweetness of rice.
-Many crab holes stand the rice straight and cook it to be more soft and sticky.
-Wooden stopper in the lid steams the rice more effectively.
-Easy to wash and care thanks to smooth surface.
-Useful not only for cooking rice but also for stewing, boiling, parching and steaming food and so on.
-Long lasting and stout earth-ware pot to give the better taste, the longer in use.
-Not disposed to be used with any electro-magnetic cooker.
Materials: Ceramic clay (Blended mud)
Country of Manufacturing: Japan
Capacity: 1L
Outer dimension: width 200mm x depth 116mm
Weight: 2.2kg
We are sorry that this item is currently discontinued, and will be on sale again in late August .
---
Macrobiotic..
This is a regimen that incorporates such concepts as Zen, Feng-Shui, Yin Yang and Tao. These concepts unify the essence of Japans spirituality and outlook on the Universe.. The purpose of the Macrobiotic Asia website is to bring together products from Nature''s bounty as well as processed products and deliver them to the world in the Japanese spirit of harmony.


Japanese Kudzu Powder 100g
968 YEN

Bio-Normalizer
6,804 YEN

Lift Up Source
3,980 YEN