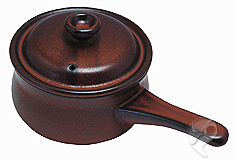 MASTER COOK "KENKO" Healthy One Hand Pan (600ml)
Item Number:
MB3864
Price:
4,719 YEN
≒ 36.89 USD
The Longest of Long Standing Sellers with Remarkable Easiness to Use. COMPRESSED and Light. Small pan type good for small quantity cooking
-Comparing with metallic product, this pan offers you less oxidation, quality alteration and metallic solution.
-This product does not smell metal and extracts the natural taste and sweetness of materials to make mild and healthy food.
-This product is of easy handling and useful thanks to small and light body with lid.
-This product is capable for the multiple uses, such as preparation of small quantity of meal and rice porridge, roasting by water, parching sesame, cooking soy bean soup and other soups including noodle soup and so on.
-Recommended by Prof. Hikari Ogata of Lima Cooking School.
-Made of Heat-resisting Ceramics of for Gas Direct Heating.
Country of Manufacturing: Japan
Capacity: 600ml
Weight: 750g
---
Macrobiotic..
This is a regimen that incorporates such concepts as Zen, Feng-Shui, Yin Yang and Tao. These concepts unify the essence of Japans spirituality and outlook on the Universe.. The purpose of the Macrobiotic Asia website is to bring together products from Nature''s bounty as well as processed products and deliver them to the world in the Japanese spirit of harmony.