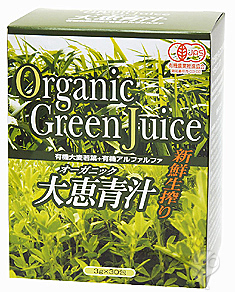 Organic Green Juice "Taikei"90g/3g x 30 pieces
Item Number:
MB3491
Price:
4,200 YEN
≒ 32.84 USD
We are sorry that this item is out of stock, and further stocks are not expected soon.
This is an organic product certified by JAS. This product is made by squeezing fresh the young leaves of barley and alfalfa and is easy to drink with a natural sweetness. This will make you nicely slender.
-This product is certified by JAS to be organic.
-For this product, completely agrochemical-free young leaves of barley and alfalfa cultivated organically with organic compost,
-in a vast farm in the State of Utah, U.S.A., are used.
-Instead of repeated cutivation,the cultivating and harvesting just once in four years make the plants rich in nutrition.
-Juice is squeezed from the just harvested fresh plant in the factory in the farm where the plant has been harvested,.and,
-without leaving any nutrition inside the plants, the juice is immediately dried to eliminate water and then powderized.
-Nutrients of the plants on being harvested, are conserved by drying them with spray for a short time at low temperature by "Instantaneous Spray-Dry Method".
-This product contains micronutrients, namely vitamins, minerals as well as phytochemicals (phytonutrients) such as amino acids
and chlorophyll and it is useful for make more healthy the dietary life of the people of today.
-This product is highly reducible..
-This a vegetable juice tasteful and good as your daily beverage
without wearying you.
Ingredienht:Powederized extract of organic barley young leaves
(US product), powderized extract of organic alfalfa (US product),
organic dextrin (from corn, not genetically modified)
Best before first opening from the date of production: 2 years after at room temperature
---
Macrobiotic..
This is a regimen that incorporates such concepts as Zen, Feng-Shui, Yin Yang and Tao. These concepts unify the essence of Japans spirituality and outlook on the Universe.. The purpose of the Macrobiotic Asia website is to bring together products from Nature''s bounty as well as processed products and deliver them to the world in the Japanese spirit of harmony.