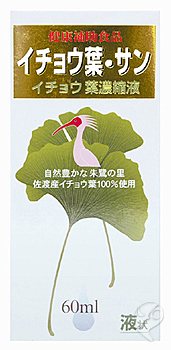 Gingko Leaves. Sun60ml
Item Number:
MB3473
Price:
8,700 YEN
≒ 64.04 USD
We are sorry that this item is out of stock, and further stocks are not expected soon.
This product, a concentrated extract to be absorbed well, is made from the Japanese gingko leaves,
-For this product the extract of leaves of gingko cultivated by
contract in Sadogashima Island is used.
-This is a concentrated juice easy to drink moderating the
characteristic bitter taste of gingko leaf extract.
-Being a concentrated juice, this product is absorbed and digested more quickly than tablet.
-1ml of this product contains 80mg of gingko leaf extract.
-The waste such as gingkolic acid is eliminated. The density of gingkolic acid is controlled to be less than 1ppm.
Ingredients: Extract of gingko leaves (product of Niigata Prefecture), ethanol, menthol & purified water
Best before first opening from the date of production: 3 years after at room temperature
---
Macrobiotic..
This is a regimen that incorporates such concepts as Zen, Feng-Shui, Yin Yang and Tao. These concepts unify the essence of Japans spirituality and outlook on the Universe.. The purpose of the Macrobiotic Asia website is to bring together products from Nature''s bounty as well as processed products and deliver them to the world in the Japanese spirit of harmony.