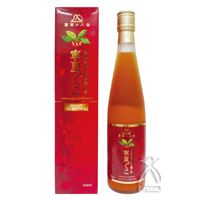 Chinese Wolfberry Juice (Zhongning County origin)500ml
Item Number:
MB6818
Price:
5,019 YEN
≒ 44.31 USD
This product is 100% pure fruit juice with vivid color. This is delicious with sweet and sour taste.
-This is the first 100% straight juice of Chinese wolfberry in the world.
-For this product, the raw material certified as "Green Food(= organic food) "by the Chinese accreditation organization for the organic product, is used.
-The Chinese wolfberry from Zhongning County, appreciated to be the best brand among the famous wolfberries grown in Ningxia Autonomous Region, is used for this product.
-This product is obtained by the first compression to the most nutritive fresh fruit.
-This product contains richly the effective nutrients, namely Chinese wolfberry polysaccharides,betaine, zeaxanthin, β-cystenol, linoleic acid and physalien together with various kinds of vitamin and amino acid.
-This product has a vivid color and is easy to drink.
-Neither sugar nor additive is contained in this product
-One bottle 500ml is for the consumption of 25days (200 yen/day)
Raw material: Chinese wolfberry fruit (product of Zhongning, Ningxia, China)
Best before first opening from the date of production: 6 months at room temperature
---
Macrobiotic..
This is a regimen that incorporates such concepts as Zen, Feng-Shui, Yin Yang and Tao. These concepts unify the essence of Japans spirituality and outlook on the Universe.. The purpose of the Macrobiotic Asia website is to bring together products from Nature''s bounty as well as processed products and deliver them to the world in the Japanese spirit of harmony.