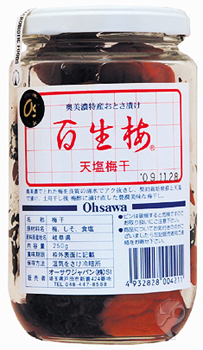 Ume to Live One Hundred "Hyaku Iki Ume"(bottle) 250g
Item Number:
MB0421
Price:
1,080 YEN
≒ 9.44 USD
Refreshing acid taste. Juicy pulp with hard peel
- Otosazuke : Removing harshness of raw plums in crystal stream, pickling them in shiso and salt, placing them in summer airing process, and then pickling again in plum vinegar. Summer airing. in the sun. No additives used. Approximately 17% salt contained.
- Light red color
Ingredients: Plum (Gifu origin), shiso leaf (Gifu origin), dietary salt (amajio)
Shelf life: 3 years in cool and dark place
---
Macrobiotic..
This is a regimen that incorporates such concepts as Zen, Feng-Shui, Yin Yang and Tao. These concepts unify the essence of Japans spirituality and outlook on the Universe.. The purpose of the Macrobiotic Asia website is to bring together products from Nature''s bounty as well as processed products and deliver them to the world in the Japanese spirit of harmony.