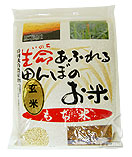 Sweet rice (brown rice) 2kg
Item Number:
F00016
Price:
1,782 YEN
≒ 12.83 USD
No agricultural pesticides or chemical fertilizers used to grow this rice.
Due to the many and repeated requests from our customers, "Full of Life" brand glutinous rice is now available here in our shop!
This glutinous rice variety, called "Miyakoganemochi", is a uniform sweet rice which makes very smooth but firm and sticky mochi, (rice cake). Perfect for mochi making or just adding to ordinary rice for a chewy texture. It can also be used as the raw material for one of the highest quality Japanese style confectionaries as well.

Production: Miyagi prefecture
* Rice is a living food. Keep dry, cool and avoid heat and direct sun light.
After opening, seal in an air tight container and consume as soon as possible



Japanese Kudzu Powder 100g
968 YEN

Bio-Normalizer
6,804 YEN

Lift Up Source
3,980 YEN