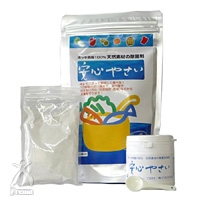 Household Antibacterial Wash Surfcera 100g×3bags (with 150g of bottle&1g measuring spoons)
Item Number:
MG0298
Price:
6,111 YEN
≒ 44.00 USD
100% Natural sterilizing Antibacterial Wash
Get safety of food !
Surfcera is environmentally friendly natural anti-bacterial wash. No chemicals, chemical treatment or additives are used in this product.
Surfcera is made primarily from the extremely small alkali molecules found in sea shells.
As a result, Surfcera can penetrate vegetable skins to eliminate agricultural chemicals attached to the surface.
Surfcera also eliminates the fungus and bacteria which cause foods to spoil, inhibiting oxidation to keep them fresh.
-How to Use:1.Dissolve Surfcera in water and soak food in the Surfcera solution for 5 to 10 minutes.
Suitable containers: stainless steel, glassware, ceramic, porcelain, polypropylene, polyethylene based products.
(Do not use aluminum, iron, or copperware.)
| | | | | |
| --- | --- | --- | --- | --- |
| Purpose of Use | Improvement of Texture | Lengthen Shelf Life | Bacteria and Food Poisoning Prevention | Appliance Cleaning |
| Concentration Standard | 0.05% | 0.10% | 0.15% | 0.20% |
| solution per 2L of water | 1g | 2g | 3g | 4g |
2. The solution dissolves contaminants, and the resulting cloudy appearance is an indication of the contaminants removed.

3. After draining, keep the food in a plastic bag and refrigerated.
The Surfcera solution can be used multiple times, so washing in bulk is possible. Keep food fresh and eliminate waste by keeping food in plastic bags and refrigerated after using Surfcera.
It is recommended that food is placed in plastic bags without washing off the white powder (calcium particles) after draining, as this will diminish the preservative effect. It is recommended to wash off just before cooking.
-The Effects of Surfcera:
1. Preserving freshness longer.
2. Removing contaminants that weaken the immune system.
3. Revitalizing the original taste and flavor of food.
4. Environmentally Friendly
Surfcera can be disposed into drains after use, cleaning drainpipes and rivers, as it returns to the environment.
-The washing mechanism of Surfcera (exfoliation, decomposition action):
Surfcera eliminates agricultural chemicals and environmental endocrine disrupters like fthalide, and Escherichia coli O157 in the comfort of your own home.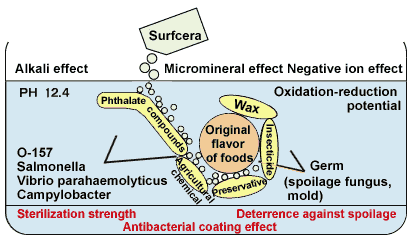 -Example of use of Surfcera:
Once food that appears to be clean is soaked in the Surfcera, the contamination dissolves and causes the solution to become cloudy.
Grape tomato
To eliminate surface pollutants, increase sweetness and get better texture.
Chicken
For firm meat and richer taste.

Egg
To eliminate the germs on eggshell surfaces and improve the elasticity of boiled eggs.

Horse mackerel
To eliminate germs on fish scales and gills. For firm meat and improve elasticity.

The greater the surface area of the food,
the more powerful Surfcera''s cleansing effect is.
Shredded violet cabbage
---
Macrobiotic..
This is a regimen that incorporates such concepts as Zen, Feng-Shui, Yin Yang and Tao. These concepts unify the essence of Japans spirituality and outlook on the Universe.. The purpose of the Macrobiotic Asia website is to bring together products from Nature''s bounty as well as processed products and deliver them to the world in the Japanese spirit of harmony.


Japanese Kudzu Powder 100g
968 YEN

Bio-Normalizer
6,804 YEN

Lift Up Source
3,980 YEN