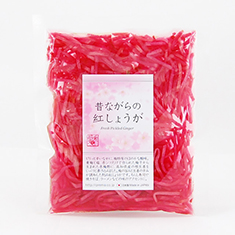 Fresh Pickled Ginger
Item Number:
00100388
Price:
329 YEN
≒ 2.97 USD
Fresh pickled ginger with spicy and rich taste
This is ready to use from the package as it has already chopped. Use it for sushi, Yakisoba (fried noodle), Gyu-don (a bowl of rice topped with beef and onion), or Okonomi yaki. Natural red colour and spicy taste of this fresh pickled ginger gives kick to the dish both sense of visual and taste. This is traditional Japanese preservative food that is made by ginger and ume-zu (plum vinegar) which is a by-product of traditional Umeboshi making with red perilla. No colouring and additives are used. The ginger is from Kochi prefecture where one of the famous for ginger production in Japan is. There it is cultivated without any chemical synthesis agrichemical or fertilizer. The plum and the red perilla is from Kinki area (Nara, Wakayama, Mie prefecture), and also they are cultivated without any chemical synthesis fertilizer, and agrichemical is used as less as possible.
[Attention]
*This product is not "raw" according to the strict definition as it dries by hot wind after the harvest.
Keep in refrigerator after opening with the ginger soaked in the pickled juice (plum vinegar) and consume shortly.
-Best before date: 90 days
-Quantity: 60g
-Ingredients: ginger (domestic), pickled ingredients (Japanese plum, red perilla, salt)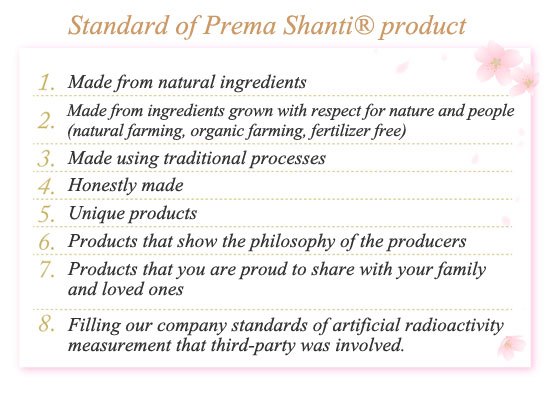 Other Prema Shanti Series products >>
---
Macrobiotic..
This is a regimen that incorporates such concepts as Zen, Feng-Shui, Yin Yang and Tao. These concepts unify the essence of Japans spirituality and outlook on the Universe.. The purpose of the Macrobiotic Asia website is to bring together products from Nature''s bounty as well as processed products and deliver them to the world in the Japanese spirit of harmony.