Organic Cereal Mix
Item Number:
00100068
Price:
1,369 YEN
≒ 10.10 USD
All ten kinds of cereals with organic cultivation from Kumamoto prefecture
Cereal mix with; sticky brown rice black rice, red rice, green rice, unrolled barley, rolled barley, glutinous foxtail millet, glutinous millet, barnyard millet, and adlay. They are grown in rich field with much natural blessings. To harness the most benefit of vial energy which grains originally have, it starts to prepare soil. After cultivation, it is kept at a certain temperature in rice store, whose soil wall has bamboo charcoal inside. The farm producer himself is doing from production till the end, packing.
All these ten kinds of ingredients are organically cultivated in Kumamoto. You can enjoy not only mixing in rice, but also cooked "cereal mix" into potato croquettes.
*Mix 10% of this cereal mix into rice and cook together according to your preference, then the rice will get rich flavour with sticky texture.
-Best before date: 180 days
-Quantity: 200g
-Ingredients: organic glutinous brown rice, organic black rice, organic red rice, organic green rice, organic unrolled barley, organic rolled barley, organic glutinous foxtail millet, organic glutinous millet, organic barnyard millet, organic adlay (all the ingredents from Kumamoto prefecture)
-Best for date: 6months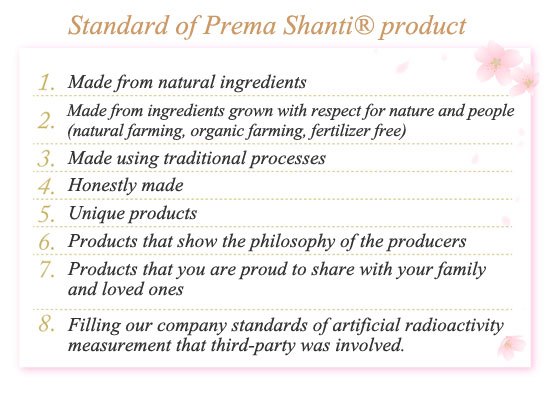 Other Prema Shanti Series products >>
---
Macrobiotic..
This is a regimen that incorporates such concepts as Zen, Feng-Shui, Yin Yang and Tao. These concepts unify the essence of Japans spirituality and outlook on the Universe.. The purpose of the Macrobiotic Asia website is to bring together products from Nature''s bounty as well as processed products and deliver them to the world in the Japanese spirit of harmony.