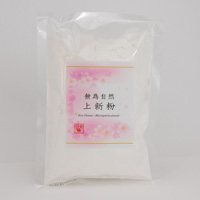 Rice Flour ~Microparticulated~
Item Number:
00100311
Price:
498 YEN
≒ 4.58 USD
Rice flour; the sweetness of rice fills up your mouth
This Joshinko (microparticulated rice flour) has deliciousness that gives sweetness and deep taste in your mouth. No chemical fertilizer, chemically synthesized agrichemical and herbicide are used for the non-glutinous rice, grown in rhythm of universe. This rice is ground into smooth powder. Its taste coming from healthy soil with full of life energy of plants, gives dishes more tasty. It is suitable not only for Japanese sweets such as Mitarashi-dango (skewed rice dumplings in a sweet soy glaze), Kashiwa-mochi (rice cake wrapped in an oak leaf) and Uirou (sweet rice jelly), but also for usual dishes such as fried chicken battering. Using this microparticulated rice flour for hot pancake or steamed cake instead of wheat flour, you can enjoy different type of chewy texture.
-Ingredients:non-glutinous rice (domestic)
-Quantity:200g
-Best for date:180 days after the production
-Storage:Keep it dry and away from direct sunlight.
[How to cook delicious dumpling]
Add about 180cc water little by little against one pack of this rice flour (200g). Make knead the dough well by hands until it gets ear lobes softness. Roll out the dough into stick shape, cut it into adequate length, and make it into a ball. Cook the dumplings about 5 minutes with middle fire in enough amount of boiling water. When it is cooked, scoop them up and put them into cold water. After that, drain them off and skewer the dumplings. Eat with soy sause or sweet soy sauce syrup, or bean paste.
*Keep in airtight container after opening to avoid moisture absorption and insect damage, and consume shortly.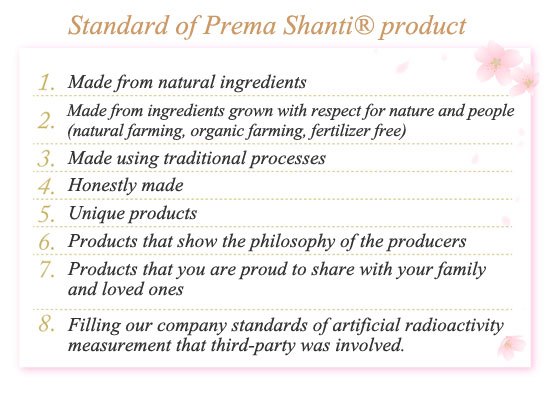 Other Prema Shanti Series products >>
---
Macrobiotic..
This is a regimen that incorporates such concepts as Zen, Feng-Shui, Yin Yang and Tao. These concepts unify the essence of Japans spirituality and outlook on the Universe.. The purpose of the Macrobiotic Asia website is to bring together products from Nature''s bounty as well as processed products and deliver them to the world in the Japanese spirit of harmony.