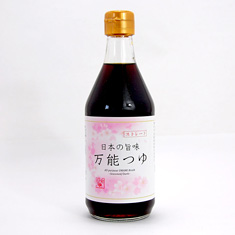 All-purpose UMAMI Broth(Seasoned/Dark) 400ml
Item Number:
00100204
Price:
707 YEN
≒ 5.09 USD
Full of Umami flavor from Japanese cuisine
This is an all-purpose soup, extracting the soup stock mainly from bonitos caught by the single-hook fishing in Makurazaki and Kombu from southern part of Hokkaido. Added whole soybean soy-sauce aged for three years, Shiro-tamari, and Hon-Mirin.
This all-purpose soup is suitable for noodles such as Soba or Udon. Also it is great as Tempura dipping sauce, seasoning in simmer dishes and more.
You can use it straight, may dilute it, or use it as a base of seasoning.
Ingredients: Authentically brewed soy sauce, Hon-Mirin, dried bonito, crude sugar, wheat brewed seasoning, mackerel flakes, Kombu, and horse mackerel flakes
-Best before date: six months from production
*Additive and preservative free
*Refrigerate after opening, and consume shortly
-How to use: Use it straight as soup for noodles or Tempura dipping sauce.
What is Shiro-tamari:
Shiro-tamari is the traditional seasoning from Hekinan city, Aichi. Without using soybeans, it is made from malted wheat using locally grown wheat (Aichi), natural sea salt from Izuoshima and natural water from Asuke. Its production method is the same as white soy sauce. This amber colored seasoning has a deep and rich flavor.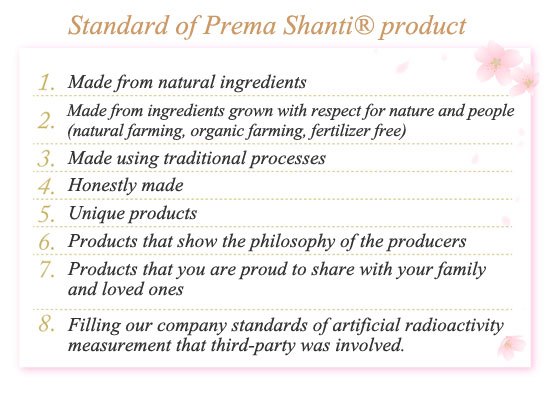 Other Prema Shanti Series products >>
---
Macrobiotic..
This is a regimen that incorporates such concepts as Zen, Feng-Shui, Yin Yang and Tao. These concepts unify the essence of Japans spirituality and outlook on the Universe.. The purpose of the Macrobiotic Asia website is to bring together products from Nature''s bounty as well as processed products and deliver them to the world in the Japanese spirit of harmony.


Japanese Kudzu Powder 100g
968 YEN

Bio-Normalizer
6,804 YEN

Lift Up Source
3,980 YEN