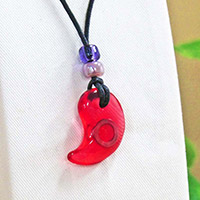 Result
Item Number:
5246
Price:
18,514 YEN
≒ 133.32 USD
Keeping a good meridian balance via wave motion resonance
What is wave motion?
It can be thought of as energy you can't see or touch. There is good wave motion and bad wave motion and both of them have impact on human beings.
As there is no scientific proof it might be hard to believe, but you yourself are releasing wave motion.
To illustrate, don't you feel good and lose track of time when you're with an innocent child, or someone who's always grateful and laughs a lot? That's because that person's wave motion resonates with you and has an impact on you. On the other hand, you probably feel bad and want to leave right away when you're with someone who's pessimistic, short tempered or complains all the time. This is the difference between good wave motion and bad wave motion.
"Words" also resonate
and people who use positive words like "thank you" or "fortunate" or "lucky" frequently are often found to be healthy. The opposite is true for unhealthy people. It would be a good idea to try using those words if you are worried about your health.
"Things" resonate as well. Tea served in a teacup made by a craftsman who cares about each teacup as well as the person who uses it, will taste different from tea served in a machine-made teacup.
You might find the word "wave motion" a little suspicious, but it is something very close to you. Bad wave motion around you can be harmful to you. You can live a happy healthy life by paying attention to the words you use, the way you think and things you use everyday.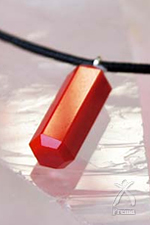 What is"Result"?
"Result" is a health pendant that uses wave motion.
There is a line called a meridian in our body where the vital energy of our whole body circulates.
"Result" keeps your meridian healthy with wave motion, without applying any stimulus, to support your mental and physical health from many angles.
How to see the effects of "Result"
First, stand with your feet spread a little without the Result pendant. Confirm what part of your body you feel is bearing most of your weight. You should be able to tell if you are leaning toward the left, right, forward or back.
Having confirmed the direction you are leaning, put "Result" on or have it in your hand.
You should be able to feel the weight of your body centering into the "Dantian", an important energy point below the navel. This is the beginning of keeping a good meridian.
Do you want to see the effects of Result?
Here is the movie of the Result's effects.Please watch the moive from 7:27 to 8:10.
---
Directions for use
Wear it around your neck as a pendant.
Product details
Pendant
Material: Glass
Shape: Hexagon
Color tone: Red
Size; 7x15mm
String
Material: Waxed cotton
Length: 90cm (can be adjusted)
---
Macrobiotic..
This is a regimen that incorporates such concepts as Zen, Feng-Shui, Yin Yang and Tao. These concepts unify the essence of Japans spirituality and outlook on the Universe.. The purpose of the Macrobiotic Asia website is to bring together products from Nature''s bounty as well as processed products and deliver them to the world in the Japanese spirit of harmony.


Japanese Kudzu Powder 100g
968 YEN

Bio-Normalizer
6,804 YEN

Lift Up Source
3,980 YEN